100% hilled out-and-back trail near Wulai.
Wulai is famous for its hot springs and spectacular mountains and the #2 trail is a magic half day (or longer) ride, and a wonderful way to see some relatively pristine sections of tropical forest.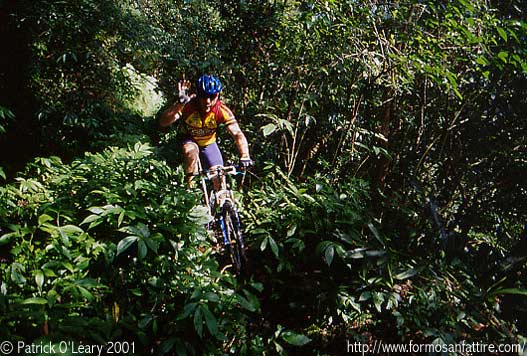 Once you arrive in Wulai head up the mountains toward the national park. Here there is a check in station where you HAVE to register with the local police. Bringing a passport or ARC is vital on this ride, as you will not be allowed to enter without it. There is also a very small fee for entering the park.
The favoured route by the FFTA is straight up for approximately 2 hours until you reach a tranquil spot resplendent with swimming hole and waterfall. A great place to cool down, revive and have a chat before tackling the 30-minute downhill that awaits. It is possible, according to locals to ride from Wulai to Ilan (20 km as the crow flies but probably closer to 40 km) on the island's east coast. The climb is a rocky affair but relatively smooth with few carries involved. As opposed to regular Taiwan mountain trails there is very little scenery to take in. Instead you are enveloped in the thick, lush green of various flora, and often fauna. Snakes are commonplace so be careful, but usually it is the swaying of monkeys and chattering of birds that accompany riders. This thick foliage makes for a perfect summer ride sheltering one from the heat. The flip side is that in winter it is pretty darn cold. Being quite a remote and vendor-free environment it is advisable to be prepared depending on the season. Take appropriate clothing, water and snacks.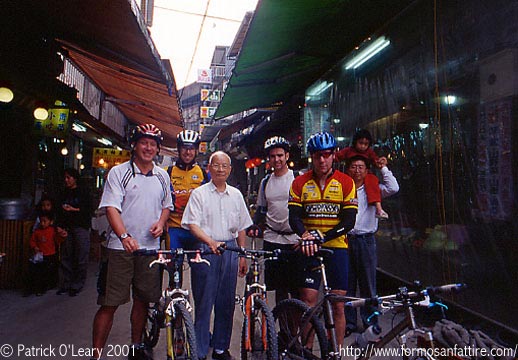 The turnaround downhill is fast paced and winding, and an often-slippery downhill rush. With no real opportunities for overtaking it is a single file sprint to the bottom, laced with stream crossings and tight corners. As the trail is super tight and often hugs elevated drop offs it is wise to bring armour to cover your legs from the stinging nettles (and potential falls), and a good pair of glasses to ward off both head-high branches and the mud from riders' tyres in front! The pace is fast, and if recent rain (read in the past fortnight) has fallen then it is likely that the trail will be slippery under tyre. Keep your wits about you and the trail will reward you with high adrenaline fun.
That said, please be mindful of local aboriginal tribes when descending. This is especially so on the jeep track area as children often play and do not hear the sound of mad bikers, unless you do as the FFTA do, and hoot and holler like apes ALL the way down.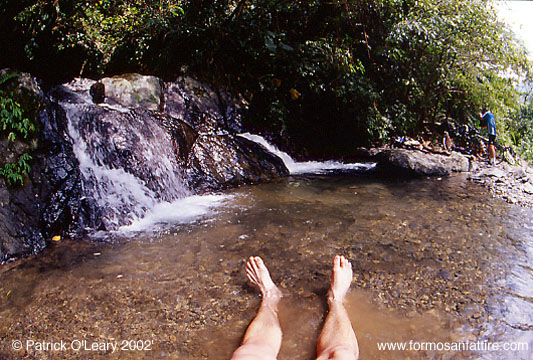 TIP: If car-less, the best option is to bus or train to Hsintien MRT station, then taxi to the top. Taxis can be bartered to around NT$250 for the trip up the mountain. If you are feeling fit then the ride is, like anywhere in Taiwan, full of traffic.
Trail name Wulai2
Location Wulai, 25 km southeast of Taipei
Terrain Slippery and rocky, but fast and very little in between
Length Varies (out and back trail)