Lengthy downhill trail in Neihu, near Yangmingshan National Park.
Helen's Coffee is an operation that does things right. Tables, chairs and nice white umbrellas all set up with care. Coffee and cheesecake served to you in an open-air atmosphere by waitresses in French style uniforms. Best yet, this all takes place on top of a beautiful mountain near Taipei's premiere National Park. The only thing that comes close to topping this operation is the nearby Ski Lift, which begins right after a cup of Joe @ Helen's.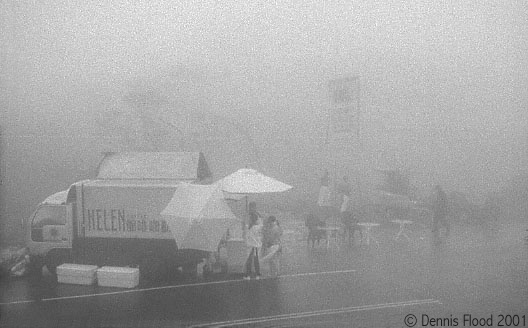 The Ski Lift was given its name by a couple of locals who felt that riding 30+ pound, dual suspension bikes straight up a mountain road for 10km to get to the trail head was completely pointless. So, the day dawned when they left a bike rack in the bushes at the bottom, drove up to the top, rode down, and then threw the rack on the back of a taxi for the ride back up. Heaven.
The Ski Lift is Taipei's premiere downhill trail. A right from Helen's puts you on to Cobblestones, which is where it all begins. The start is a nice little wake up call. Tight, tree lined single track with roots … that is often wet and slippery … leads you down to a paved path. Combining its mossy surface with some challenging little drops and well-placed rocks, the path is anything but boring. A tight, steep chute at the end quickly deposits you on to a paved road.
Where Cobblestones ends, a maze of trails begins. A windy, covered single-track referred to as "Snakes" brings you into a canopy of bushes and trees. Snakes flows smoothly, requiring little effort to traverse. It brings you to a challenging set of steep stairs, which look doable when you are walking down them, but the view from the top of your bike quickly changes that. There is a starting point a little ways down for a bumpy ride to the bottom. Most choose this.
A short carry up to a rest stop, complete with love seat and hula-hoops is next. On the weekend it will have the regular crowd of older Taiwanese hikers, stating their amazement at your feats, and generally encouraging you to continue. The trail continues along the same lines. Beautiful tree lined, well trodden in, single track, crossing many other trails. A short road ride of about 5 minutes is needed here to link up the next section of trail called Spikes.
The start of Spikes is a great pebble lined gateway that goes up to an area where groups of company hikers love to congregate at. It can be loud and lively. It is definitely a change to the tranquility of the rest of the trail. Ride quickly through here (and it will just be a blur that is soon forgotten) and start the longest climb on the trail. This will test the stamina and will power of most. Once at the top there is a tricky section that leads you down to yet another rest stop for the hikers. This has drops, tight jams and stairs made all the more dangerous by the fact that the trail builders left pieces of iron bars they used, poking up all over the place. These bars aren't good for tires or the human body, potentially leaving holes in both.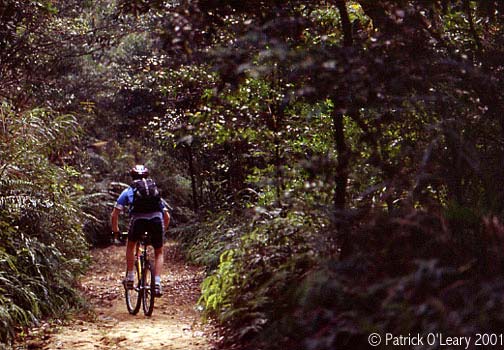 Switchbacks. This trail starts out smooth and becomes rougher, before arriving at the curves for which it is named. There are 4 switchbacks full of roots and ruts, which though difficult are rideable. Be careful, as quite a few riders have done Superman impressions into the bushes, to earn their fair share of pain. The last root-laden part leads you to a paved road, that for the more adventurous provides a chance to test jumping skills, on 3 to 6 foot drops. The choice is up to you.
The next section is a favorite to many. The Clubhouse avoids the most evil place on this popular hiking trail. On this section there are few hikers and more importantly no wafts of stinky tofu. This recently discovered section has saved the sanity of a few riders. It is a flowing single track that requires you to know just how wide your bike is. It will join you back up with the weekend hoards, on a path, but only for a few hundred meters.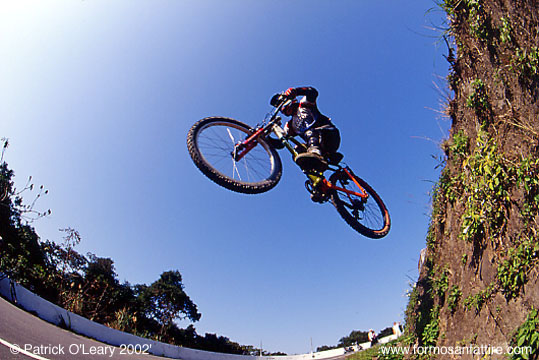 A few short rides, a carry and a push will get you to the top of the most dangerous section of the trail, Roots. There are roots, rocks and trees making the decent technical and very challenging. It has broken the arm of one rider already, and is often ridden two or three times at the end of a ride for the challenge. If there are hikers at the bottom, there is a chance of gaining a few seconds of fame as they eagerly await the next suicidal rider. This is where it ends. Hopefully you have a car waiting at the bottom, as it is a killer ride back to the top.
Trail name Skilift
Location Neihu District, Taipei
Terrain Downhill, technical sections
Length 10 km