Reeducation through hard labour. LONG steady climb up. Turn around and bomb down absolutely perfect single track.
Say hi to Neng-Gao West Line. Yet another freak of a trail that begins in the mountainous interior region of Wushe and ends on the East coast near Hualien. This time however, we didn't ride the trail through to Hualien. Instead, the plan was to ride to a hut at 9,000 feet; turn around and bomb down absolute perfect single track.
We had been getting bits of info from Mike, FFTA Taichung, about Neng-Gao. He has been riding the trail for months solo and everything sounded way too epic - perfect high altitude single track, jaw dropping views, diverse flora and fauna and hot springs waiting in Lushan for post-ride celebrations.
One prerequisite for the trail was that we had to bail our beloved 40-pound suspension bikes in lieu of our severely neglected hardtails. Supposedly, Neng-Gao required a steady 5 hour climb to the 9,000 foot turn around, and no heavy suspension bike was going to get us there efficiently enough. Here began the great hardtail restoration program.
I found my hardtail in a gutter behind my house, next to my plastic and cardboard recycling bins. I picked it from obscurity and dusted off the frame to see "Voodoo" written on the frame. I immediately began to chant the "steel is real" mantra and suddenly my thoughts drifted off to the realization that I was severely out of shape. Climbing for hours on end is a completely different sport altogether.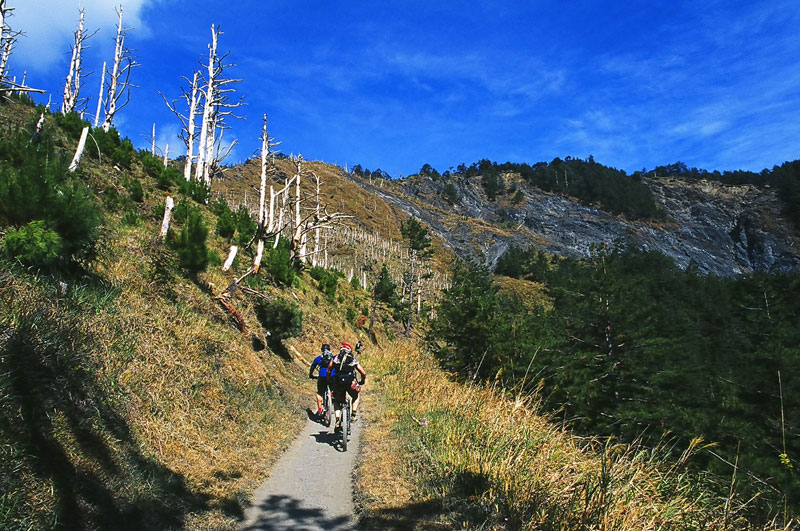 We got a solid crew together and set off on a Friday evening from Taipei, in a super deluxe Volkswagen Van, courtesy of Scott. When we arrived at the end of the paved road that marked the beginning of the trail, my worst fears were confirmed. There it was. Etched into the cliffside of a massive peak: Neng-Gao West Line. Up, up and up. My Snickers bar down fell from my grasp as I watched XC ace Roy strap on a heart rate monitor to ready himself for the ascent. This was going to be a challenge.
After 5 hours of difficult climbing (and lots of pushing on my part) passing through seemingly a handful of climatic zones, we arrived at a mountain hut surrounded in mist and staffed by a lonely worker that was eager to chat. With the barometer dropping fast, and fog rolling in, we scarfed our food quickly and got back on the bikes for the descent.
What goes up must come down, and thankfully we were able to turn around and let gravity take its natural course. What followed was an hour and half of pure adrenaline, with the entire crew riding their hardtails to the absolute limit. A few close calls were had. Scott was almost bucked off a foggy suspension bridge into oblivion, and Roy almost flew off a sketchy cliff. Stephen took the cake for riding like a complete freak with only a front brake to stop his descent.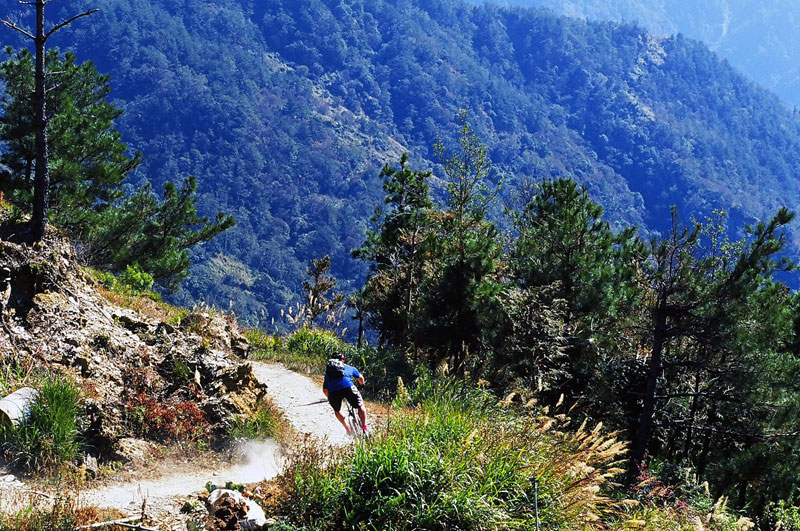 After about an hour, suffering from fatigue, tunnel vision and vertigo, I pulled back from the insane pace and kicked it into cruise control. Within seconds the pack was gone and I was left alone with the chirping birds and my out of whack front rim.
The scenery looks part Colorado, part Oregon, part Japan. Luckily for us, it was just Formosa at its finest. It's only a matter of time before FFTA returns for a two-day expedition taking us all the way to Hualien. One thing is for sure though; I'm keeping my hardtail out of the gutter.
Trail name NengGao West Line
Location Wushe, Central Taiwan
Terrain Singletrack
Length 12km to 9,000 foot hut turnaround, trail continues to Hualien; total length unknown