Varied trail that runs from Mucha to Hsintien on and off the road.
Famous for its green tea and spectacular teahouses that overlook the city, Maokong is also home to a challenging trail that winds itself through tea plantations, temples and bamboo grooves. The trail has been linked up from Muja to Hsintien giving it ample length and variety. You will encounter a bit of everything at Maokong; torturous climbs, slippery and technical single track, downhill sections with loose rocks, very steep technical sections and last but not least, a very dangerous chute dubbed the "kamikaze chute" which tests the skills and sanity of local riders. Maokong has a reputation for being the most diverse trail in the city and many riders are impressed not only with the trail, but the surrounding area that is refreshingly beautiful and clean.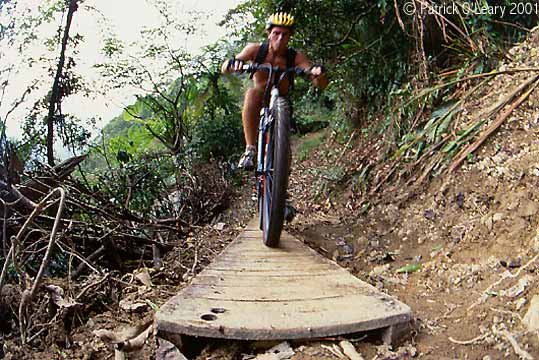 The trail begins with an unpleasant uphill climb on road. Once arriving at the auspicious Jr Nan Taoist Temple, it's a hike up a flight of stairs to level ground. You will then certainly spot grounds keepers who are simultaneously eating betel nut and having a smoke at 6am in the morning. Ride past and fast through the smell of burning incense and stinky tofu, as the mixture of aromas alone can have a traumatic effect on your riding abilities.
Alas, you arrive at the first off road section dubbed "Better Than Nothing." A 1.5km long windy single track perched on the side of a cliff. Scenic and slightly dangerous, BTN delivers the perfect warm up, which gets the skills honed and the heart pumping. BTN highlights include a technical wooden bridge crossing and a narrow ledge/crossing referred to as Lester's Ledge. This was made famous by Lester Lin who, while traversing said section decided to unclip midway through to put his foot down where only air and space existed. The resulting fall and tumble down the ravine to this day remains the greatest crash I've ever witnessed. In the greater Taipei area, uninterrupted single track just doesn't exist. Just when you're telling yourself how good BTN is, it suddenly ends and dumps you on a paved road on the top of Maokong proper. A ten-minute road ride flies you past beautiful terraced tea farms and no less than 100 teahouses delivering you to the next off road section called the Tea Run.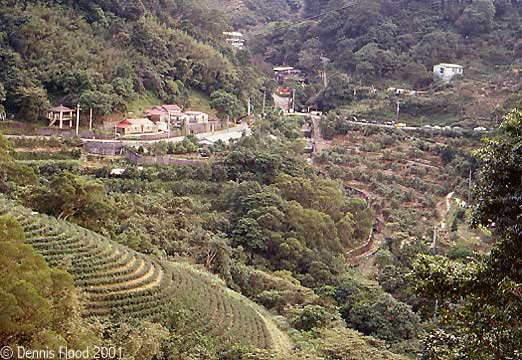 The Tea Run is a good all around XC section. Rolling hills, a few steep climbs and some nice tree coverage with beautiful mountain vistas thrown in. The Tea Run is where you will encounter with any luck, swarms of rubber boot wearing, excessive jabber talking, "hao li hai " shouting locals partaking in a morning peaceful hike with 50 to 70 of their closest friends. After lively conversation punctuated by shouts and cheers, we are then told by these old folks to pedal as fast as we can and not to worry about sending 80 year olds scrambling for cover.
Where Tea Run ends, FUR begins. FUR ( fuc%@#!! Up Road) involves pointing your bike downward and letting it fly. If you do fall off here it's going to hurt, as the locals like to "firm" the road up by dumping bricks and/or tile where perfect dirt lies. So practical, so convenient, so Taiwan.
Following a quick stop at yet another temple for a free water refill, the trail takes us to the Lookout. The Lookout gives you a panoramic view of the chaos in the city below and on many a beautiful morning or late afternoon, riders have most certainly blown quiet romantic moments between lovers at this spot. After getting tired of waiting for Godzilla to show up to trounce the post-apocalyptic view of the city, you hop on the rig and fly to Dab's.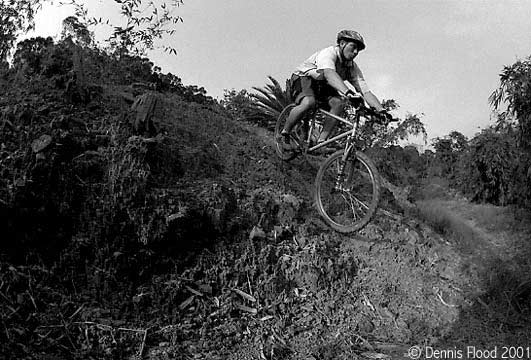 Dab's is a series of three very challenging rolling/technical parts. A wonderful place to test your balance and braking techniques, Dab's will tell you if you are on or off for the day. On a good day you can get through this entire section without putting a foot down.
From there, it's a fork in the road. For riders who like it steep and technical, take a right and you arrive at the Bamboo Forest. This is a good place to tread lightly with small groups of riders, as the local farmers aren't too keen letting bikes through the area as this is where they farm bamboo shoots for the market. Because of the steepness and shortness of it, most riders pass on the Bamboo Forest and continue pedaling straight on for another great single track section with nice length, arriving at Wu-Fong mountain. This is where riders have to confront the very dangerous "Kamikaze chute."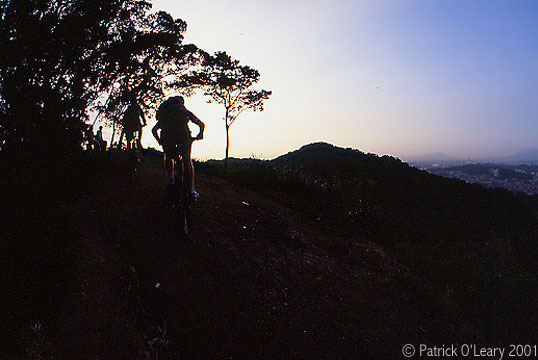 Sharp, slippery, and steep are only a few adjectives describing the chute. Plain and simple, it's dangerous. Fall off here with some speed and you are history! If you're not feeling worthy and fear facing the Kamikaze chute, there is a mini chute, which will help get you ready for the big day. Depending on the season and the recent weather, one or both of the chutes may be too overgrown to ride.
The last section of the trail takes you through a less than desirable off road/gravel/brick/tile trail, letting you out appropriately on Binglang Road in Hsintien.
What can I say? How lucky we are to have this slice of paradise on the edge of a mad city!
Trail name Maokong
Location Mucha, Taipei
Terrain Cross-country, technical sections, downhill
Length 15 km (varies, depending on route)