Hidden in the hills of Northern Taiwan this beautiful trail delivers 18km of unrelenting, sometimes punishing singletrack through pristine forest.
We knew that there was a trail from La La Shan to Fu Shan for a while. We knew that the top of the trail started with some fine looking singletrack. We even went so far as to get a bunch of totally unnecessary mountain permits for the place a few months back, though never used them. It all came together after chance meeting in a juice shop; a guy who knows Wulai pretty well offered an explanation as to where the trail started in Fu Shan. Patrick had enough spare time to check out this lead, and while doing so delivered a series of panting phone calls to all who would be involved. The basic contents of the calls were the same. They promised great riding. That was more than enough to call off a Kenting trip.
On the drive to Fu Shan, we were all psyched in anticipation of what would be up there. Then, Patrick managed to kill the mood with a casual "Oh, by the way I take no responsibility for what the trail is like," about 2 minutes from our destination. Suddenly everyone started to worry about the reported 6 to 7-hour walk that was in front of us, and whether it would be for nothing.
With unsettling thoughts still in mind, we started out across the suspension bridge at the trailhead and were immediately alarmed by the narrowness of the trail. It started narrow and, we thought somewhat unrideable and then got narrower still. By the time we had walked about an hour, team pessimist Oman McHale was getting worried. We had barely ridden and seemed to be carrying our bikes across some fairly narrow cliff-side trail, which he had pointed out, were basically ledges with nothing underneath. It wasn't looking good, and some of us were questioning the idea of spending a weekend walking our bikes up a hill for nothing. Still we pushed and plodded on and started to enjoy the place. It isn't that hard when you're in pristine forest with none of the normal Taipei noise pollution to disturb you. Soon enough the trail began to resemble something that was quite rideable and was giving hints of what the anxious phone calls had promised. The more we walked the better it seemed to get and only one surprise encounter with a snake "with friggin' lasers", as Patrick described the Russell's Pit Viper, seemed to slow us down. There were even chances to ride on what is basically a long uphill walk.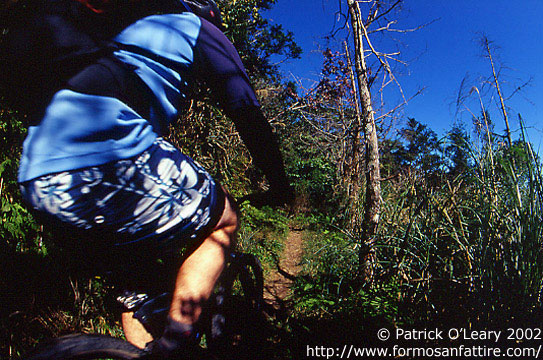 Still, after many hours of walking and hauling bikes over bridges and fallen trees, even perfect weather and incredible views couldn't keep everyone happy and all of us seemed to be re-questioning the idea. Why the hell didn't we just catch a bus to La La Shan and ride down?
The change in the trail from dirt to moss-covered rock and rooty single track had us all looking for rideable lines for the trip down. The long walk started to feel like it would never end and the sun disappeared behind the mountains at times making it definitely cooler. I, for one was wondering whether we had the right trail. On the good side we were definitely riding more often and that sped things up considerably.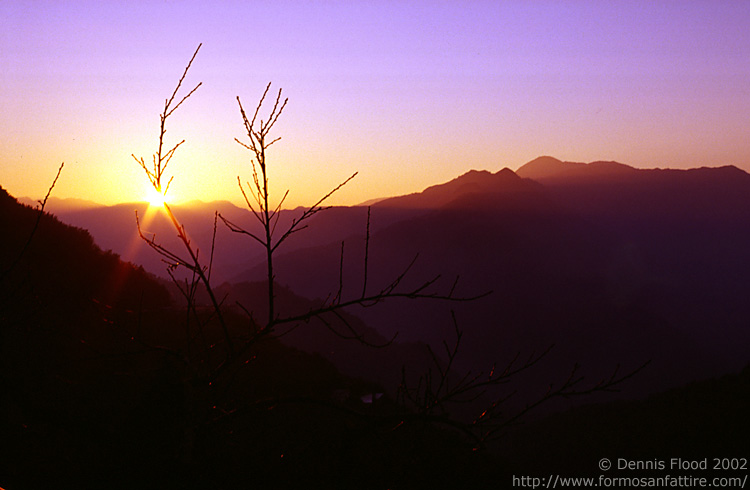 Seven and a-half-hours after starting we were within 2 kilometers of the end and standing at yet another amazing mountain vista; that, combined with a nice looking, downward sloping trail, made everyone perk up. The last 2 kilometers were fun to ride, and we all followed Patrick's lead as he sped off towards a well deserved beer and rest. This part of the trail like a lot of the rest is on the edge of a rather large drop and luckily the only fall along here turned out to be a minor one.
Trail name La La Shan
Location From La La Shan to Fu Shan, in the backcountry of Southern Taipei County
Terrain Some technical sections, steady downhill, unrelenting singletrack, roots, rocks, cliffs, pristine forests
Length 18 km offroad each way plus additional road riding at either end of the trail