Short, but packed with Taipei's most technical climbs and descents.
This trail can be found over the Hsin-hai Road tunnel (literally) and is a short 3 km ride that lands you near Lin Kuang MRT station. We have to thank Lester Lin for this short, but amazing, trail that has everything a quick morning or late afternoon ride needs and can be done comfortably in about 45 minutes.
The trail starts in a farmers trail just off a narrow lane, near strangely enough, a gas plant. It begins with a series of flowing trails punctuated by short, but testing little climbs that go on for a kilometer or so. This is the easiest part of the whole trail and is a nice little warm up for what is to come.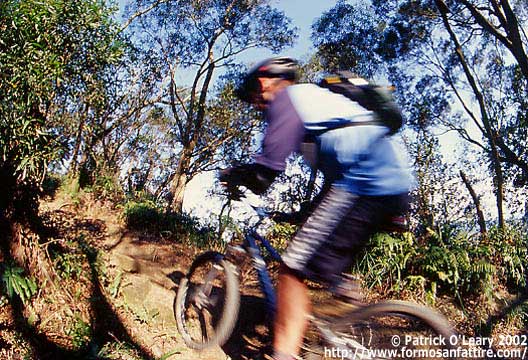 The next section is sure to knock the wind out of you. It is basically two climbs up to an outstanding view of Taipei City. It IS possible to ride to the top without touching. However, there are many roots, rocks and other obstacles (friendly hikers), seemingly strategically placed, to make this quite a feat. Once at the top there is a short downhill to a set of stairs and usually slippery little path. This is where the technical part of the trail begins. Again this is doable, just a little tricky.
The last section is what you ride this trail for. It is great fun, if a little dangerous. It starts off with 2 short carries over un-rideable rocks, but then flows nicely. The first in a series of testing obstacles is a bumpy little section covered by roots and rocks that leads to a 3 foot high or so, drop over a tangle of tree roots. All you have to remember is to keep rolling and you seem to bounce down it every time. It looks a lot harder than it is. Next is a tight little path that rolls between some rocks, and then on to what you are really here for; a tight tree-lined trail that is all down. It contains roots, drops and turns that make it a challenge to ride without touching down.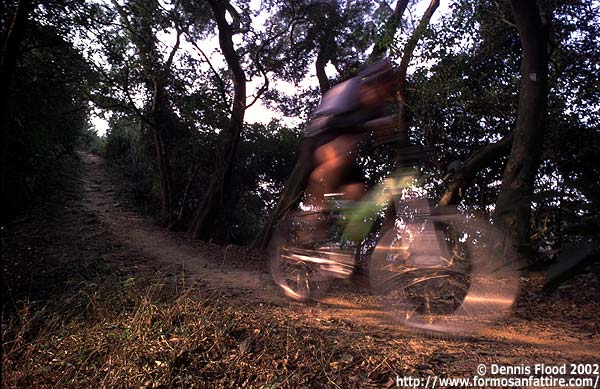 It isn't the safest place to ride, yet amazingly there has been only one serious injury here that we are aware of. Helmets and some protective padding are an idea especially when it is wet and slippery. The last thing you will do is carrying your bike, down the slipperiest stairs in Taipei (even worse for those wearing cleats), before riding off.
If you find that this is too short then ride back around and do it again. It only takes 10-15 minutes to get back to the start.
Trail name Gas Plant
Location Above Hsin-hai Road tunnel, Taipei City
Trail type Downhill course
Terrain Steep ups and downs, rooty and rocky
Length Approximately 3km