Sooner or later, the Speed Trap will kick your ass. Probably sooner.
As our tires and waistlines expand and thoughts of actually riding up a mountain to get to the top make us cringe, the discovery of the Beitou Speed Trap comes along at a wonderfully good time.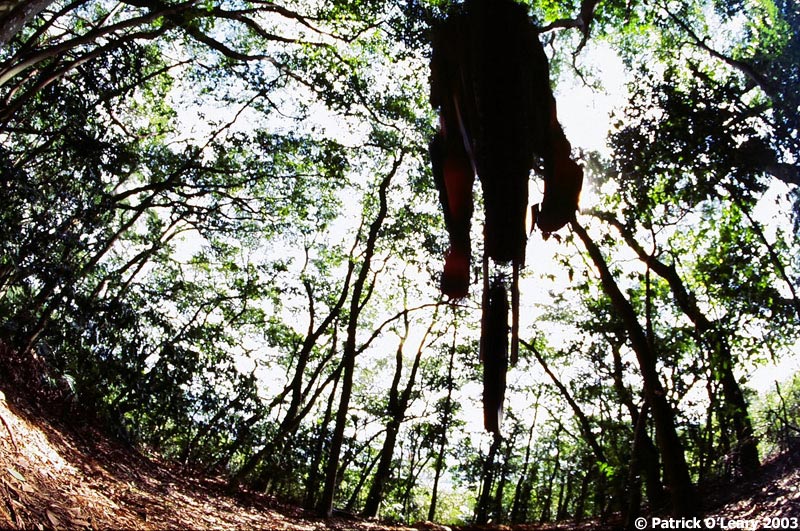 The Trap is almost too good to be true for those that like free gravitational pull. Pssss, listen......A proper downhill trail hidden in the forest just above Xin- Beitou that offers 15 minutes of sustained speed and danger, connected on both sides with a perfectly paved road that makes riding up illegal.
The only question we needed to ask ourselves after riding it for the first time was this; why did it take us so long to come and ride this trail?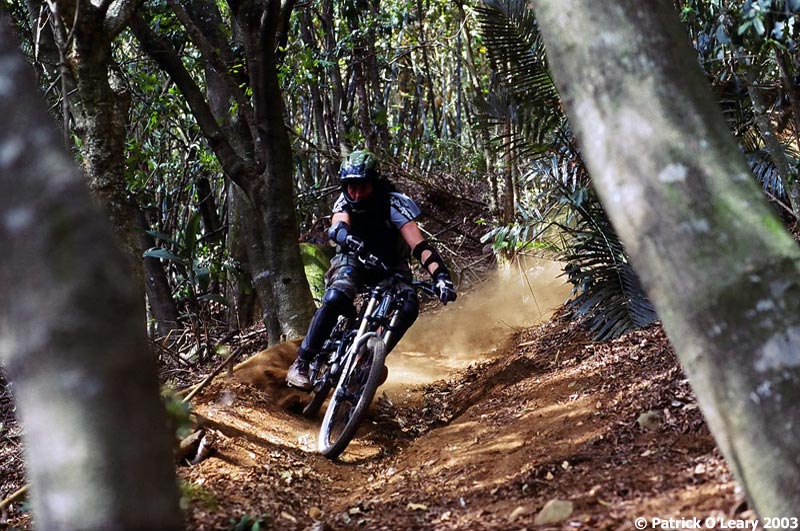 The Speed Trap has been around for over a year and was built by a group of dedicated downhill enthusiasts that call Sean's bike shop in Tienmu home. These guys have it down to a science. They've got proper downhill bikes and protection gear that make them look like football players, and the posse even went out and bought a communal flat bed blue truck to make shuttling efficient and hassle free!
So the day dawned when the Formosan Fat Boy's rolled up to the top of the trail in the early morning hours courtesy of a large van with doughnuts and coffee in hand. Not knowing what to expect they stupidly assumed that the Speed Trap would be another light technical trail in the realm of hardcore XC/wimpy freeride with bonus free rides to the top. Domination appeared imminent.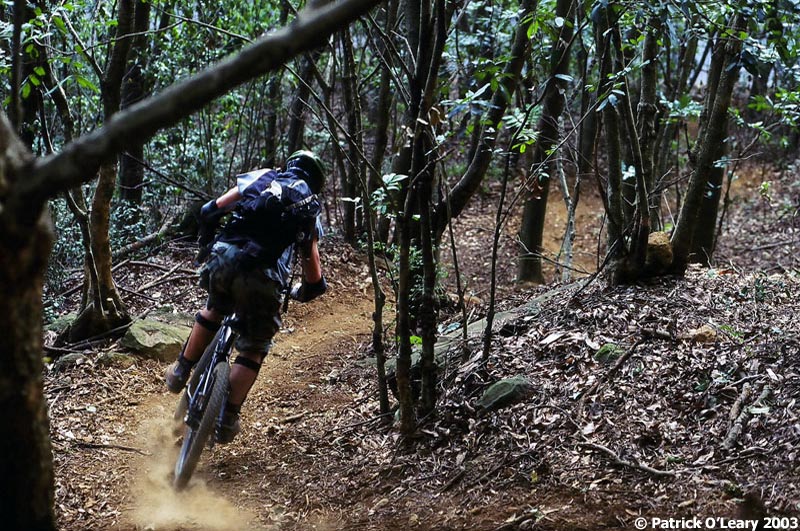 The first off camber, super steep chute that threw one party member into a tree should have served as a red flag to the rest; though at this point no one stopped to think long enough about an important fact that nipped us in the end. The Speed Trap will sooner or later kick your ass.
I didn't realize that the Speed Trap kicked my ass until the fourth run, cause up to that point my brain was telling me that I was rippin' it up. Then, suddenly, when negotiating a right turn at higher than usual speed, I was sent somersaulting off my bike and tumbled to a painful stop against a nice solid rock. Landing straight on my Camelback with $1,500 worth of camera gear inside was the least of my worries. Rather, it was my damn leg that had me screaming in agony, as it felt like someone had just hit my upper thigh with a 2x4. As I was rolling around in pain and misery, photo visionary Stephen Wilde took the opportunity to snap off more than a few shots of my pain for future exploitation.
When the pain subsided, we sat for awhile and realized how dangerously fun this trail really was.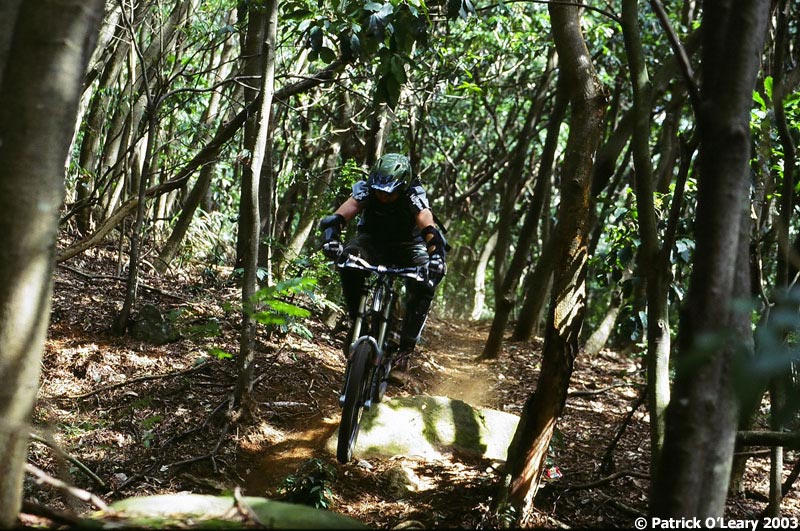 The second and third runs had us riding so fast that my eyes dried up and my fingers were numb from braking. The berms and banks that had us flying around corners at high speed were only a pre -curser to the multiple jumps and drops that were peppered along the way. Jumps and berms, combined with rock drops and single track winding through bamboo and forest make the Speed Trap an absolute adrenaline rush which makes you want to go faster and faster.
After about five minutes, I got back on the bike with bruised thigh and inflamed ankle and sheepishly rode down parts of the trail, stopping at sections to watch Stephen and his Trek beast fly off of some tasty dirt jumps to the delight of the Fat Boy's. Stephen was pushing his quota, when finally on yet another jump, he lost control of Trek beast, flew thru the air and slammed his chest into a tree that didn't want to move.
At this point it was time to call it a day, and the Fat Boy's cautiously rode down the rest of the way, rolling off the trail and getting shot out on a non-descript street in chaotic Beitou.
Jumping back in the van to fetch the FFTA mobile at the top of the hill one last time, we hit a long stretch of steep incline that had the van's engine going into overdrive. It was at this point that we came across four very determined cyclists who were trying their best to pedal up this impossibly steep section. With noticeable strains on all of their faces and a look of defeat on one of them, our van driver turned to us and said, "Hey, don't they know they can drive up?"
Note: If you are interested in riding the Speed Trap, it would be best to contact Sean directly. They ride it regularly on the weekends. Call for times. It would also be recommended that you wear leg and arm guards and preferably a full-face helmet to keep things safe.
Trail name Beitou Speed Trap
Location Xin Beitou, Taipei City
Terrain Singletrack, filled with berms, jumps and rock ledges
Length 4-5 km, all downhill