A compact, action packed riding area in northern Taipei.
The Beitou Hills trails may not be as substantial in quantity as the legendary Ski Lift, but in places they offer some quality technical, downhill and cross country riding. This relatively small area offers a surprising variety of top-notch riding to suit most any rider.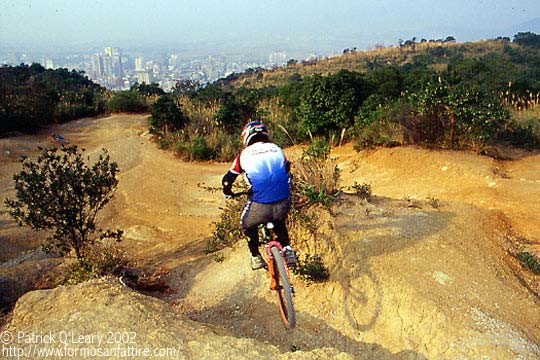 Surrounded by a gigantic graveyard on one side, a large Veterans Hospital on another side, and a residential housing area on a third, from afar this doesn't exactly look like a dream location for a Fat Tire junky. A closer inspection will prove otherwise. Approaches to Beitou Hills are neither straightforward nor easy to find. Without the help of a rider with previous knowledge of this area, you might as well save your time and stay home.
Three of the more interesting approaches (there are many) include a ride through quiet neighbourhood streets, a technical off-road climb, or a long steady climb on a sometimes-busy road. Each has advantages, with the long road climb winding up with the best view. From this line of attack, the area preceding the trails has a high concentration of stray dogs and illegal trash dumps. However, it quickly opens into a rewarding view of the Taipei basin, with a large graveyard spilling out below you. The downside of this approach is the hundreds of stairs between the view and the trailhead.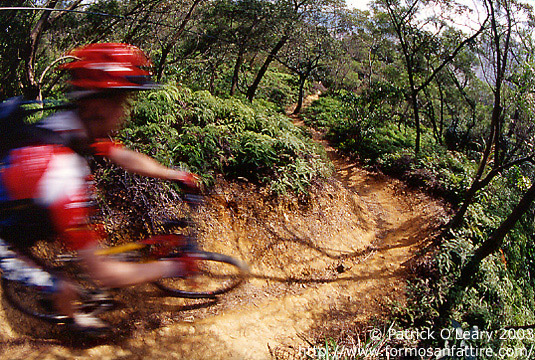 Regardless of how you choose to get there, all approaches will eventually lead to the same area. A narrow ridge near the top of Beitou Hills holds an adrenaline pumping blast of singletrack. The riding is fast with vertical twists and turns taking the place of the more common lefts and rights. This little treat is book-ended by large rock formations offering more great views of the city below. A run or two across the ridge will get your heart pumping and prime your skills for what is to come. Your eyes will be teased in every direction, as you can see twisting and turning singletrack snaking into the trees.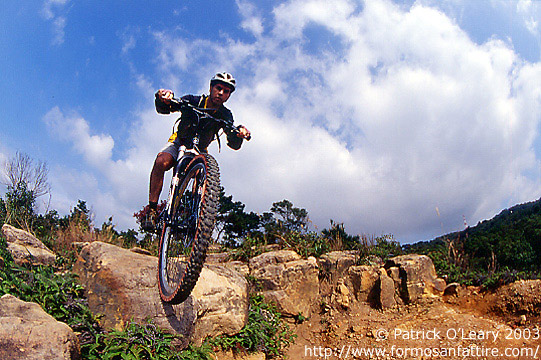 The network of trails that is Beitou Hills can be best described as technical, full of fun, and a tad bit dangerous. (Fortunately that Hospital is never too far away.) Sweet sections abound throughout the trails, and the heartiest technical rider will have no problem getting their stoke-level up. High speeds, twists, turns and rocky drops all confront the rider. Further along, a natural bowl has formed a jumper's arena, giving hellmen the opportunity to take flight. After all flights have been grounded, yet another hall of fame technical section awaits.
Unlike the slippery and wooded Ski Lift or Gas Plant trails, the Beitou Hills terrain is completely different. It features dry and very grippy volcanic rock, textured soil, and lots of open-air riding. The constant trade wind that blows through Taipei from the Taiwan Strait makes this trail the driest in Taipei. That said, be prepared with lots of water and bring a snack, as you won't find any vendors in the area.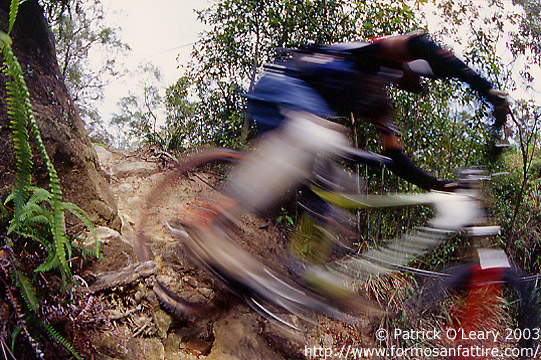 If the Beitou Hills riding area has one major downfall, it is a lack of flow. Though it holds numerous great sections, they are generally quite short; climb some stairs here, push through an un-rideable section there, carry past a landslide ... You'll likely either need to settle for an 'A La Carte' ride or ride loops around the area as it is too short to be the Main Course. But, if the Ski Lift is your Main Course, then Beitou Hills makes for either a great appetizer or an excellent after dinner treat.
Trail name Beitou Hills
Location Beitou/Tienmu, Taipei
Terrain Singletrack, Cross-Country, Downhill, Technical
Length Varies depending on route