A Tall Texan's Tale
by Russell Duke
When I first heard that I would be traveling to Taiwan on a business trip, I didn't really know what to expect. After doing a little homework, I learned that Taiwan has a population of 20 million + people, has a footprint of about 200 x 70 miles, and is a major global manufacturing base. This information gave me a mental picture of a small, crowded, industrialized island. As an avid bicyclist and general nature boy, this didn't sound very good at all. But then I typed 'Taiwan, mountain bike' into Google, and up popped the Formosan Fat Tire Association website. I thought to me-self 'well, well, well, what have we here?' ... the next thing I know, I had become mesmerized by this site which contained amazing photographs and ride reports, describing a small mountain biking community who enjoys a beautiful island that is covered in world class trails. That's when the idea began to form, that maybe, just maybe, I could do some riding when I was over in Taiwan. Things were looking up!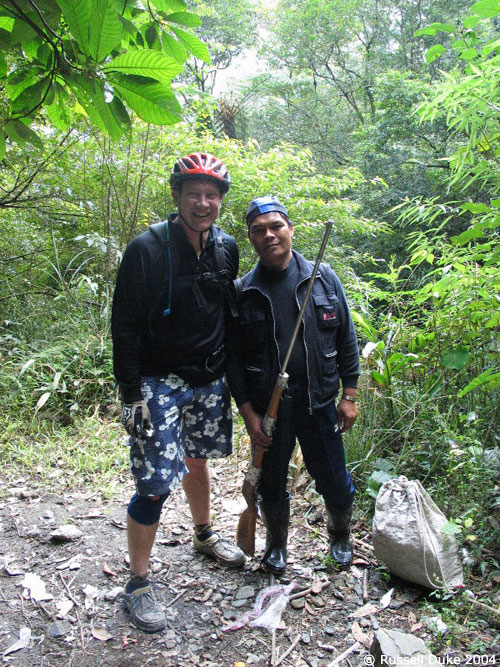 Over the next month, using the forum and contact info listed on the website, I made contact with the FFTA. A lot of mountain bike people have something in common that's hard to put into words. It's more than a shared interest; maybe it's more like a brotherhood. Maybe it's an understanding that in order to cleanse your spirit, you've got to get a little dirty, or maybe it's just a shared love of a flowing trail …whatever it is, I was looking forward to riding the sweet trails of Taiwan with this group of kindred spirits.
So I arrived in the grim industrial city of Taoyuan for a 3-week stay. As I settled into my work routine, and recovered from jet lag, I really began to look forward to getting out of the city. There are some interesting night markets and small temples in Taoyuan, but after a few days, I really needed to see the blue sky, and feel the wind in my hair.
Ski Lift
The FFTA invited me to go a New Years Day ride. We were to ride on a trail outside of Taipei known as the Ski Lift. I knew from reading the trail descriptions that the Ski Lift is a rugged downhill course, and that the cool guy technique is to drive to the top, then bomb down. I'm accustomed to riding the trails in the Texas hill country outside of Austin. We have plenty of great trails and nice hills, but nothing so big that you drive to the top, and then ride down! This was going to be fun! So to kick off 2004, I took the train from Taoyuan to Taipei, and met up with the FFTA boys. As we talked, and calmly piloted the car through the mixture of smoking 3 wheeled delivery trucks, luxury cars, suicidal scooters, and betel nut-fueled taxi drivers that is Taipei traffic, we plotted the course through the 4 dimensional world of overpasses, underpasses, split lanes, and 4 into 2 merge lanes. Now that, folks, is multi-tasking, and I was impressed.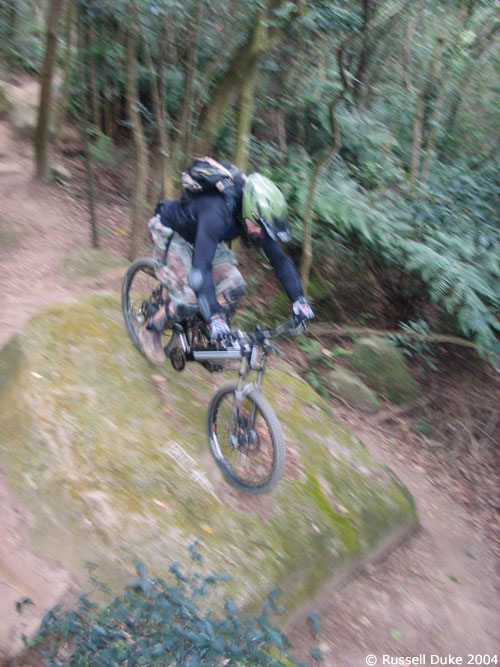 En route to the ski lift, we met up with more friends of the FFTA and left a van at the base of the mountain to shuttle us back to the top after our ride. We then set off for the trailhead on a narrow, twisty mountain road. On the way up to the top, squadrons of suicidal scooter riders out for a New Year's Day jaunt passed us like we were standing still. Many of the scooter riders had highly modified bikes, with carbon fiber mufflers, billet controls, big disc brakes, and other craziness usually reserved for sporting motorcycles. And these guys were hauling ass too, hanging off in the corners and passing with inches to spare….wackiness.
Once at the trailhead, we set out on our ride, whereupon I immediately fell down. I could see by the look in the other's eyes that they were not sure what they had gotten themselves into ... but muttering something about 'new bike', I dusted myself off, and off we went. Turns out that the Ski Lift is a sick trail that twists and turns it's way down the mountain. The trail is a mixture of singletrack, slick roots, and rocks, most at a pretty steep downhill angle. There are also some short uphill sections, and a few sections that you have to clamber up, pushing the bike. Today I was riding an Azonic dual suspension bike (the FFTA weapon of choice, bar a sick Trek downhill machine). This type of full suspension bike just soak up the bumps, and can be ridden extremely fast if the rider is skilled. And this crew has mad skills, railing over stuff that I gingerly picked my way through…I have been thinking about buying a dual suspension trailbike for about a year now, and the Azonic really opened my eyes to the joys of riding this type of bike.
The terrain of the Ski Lift is very different than the local trails around Austin, and I learned a lot about riding steep trails with roots that day. Trusting the bike and letting it roll over the obstacles without braking works well, but it's easier said than done when you are accelerating at a rapid rate down the mountain … all in all, it was a great ride, and I left the trail with mixed feelings. I was really glad that I hadn't hurt myself, but I also really wanted to ride this trail again!
Driving back up the mountain, we vibed out to the sweet tunes of Bob Marley, then chilled and visited over coffee at a roadside coffee shop. I had a hard time believing that this was the same industrialized Taiwan that I had been working in for the last week. Seemed like not just a different country, but an entirely different planet.
Bike Shops ... Cobra Juice ... and Dumplings
On Saturday, I went into Taipei to find check out some of the shops recommended on the FFTA website. I was pleased to find them crammed with high quality parts, frames, riding gear, and bikes. Since most bike frames are made in Taiwan, some really smoking deals on frames on frames can be found. Turns out that most of the shops have organized rides all the time.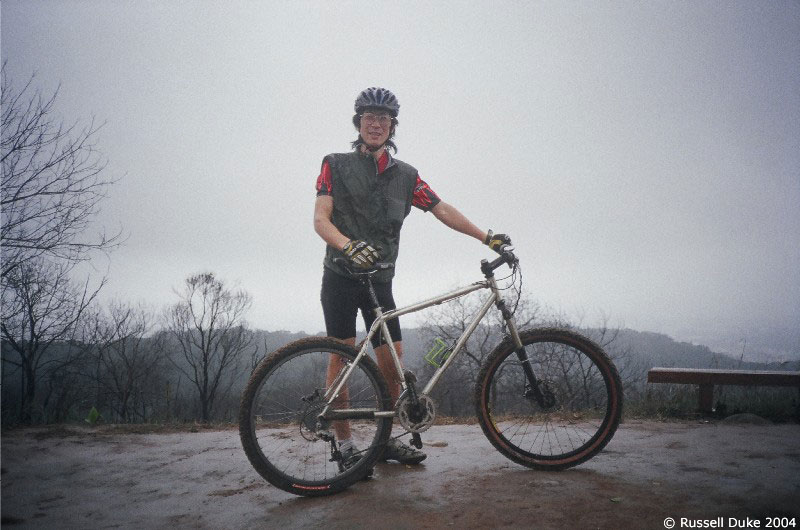 Later that evening, I hooked up with the guys for a night on the town kicked off by exploring the camera district in Taipei. This is a city block that is lined with camera stores, selling everything from the newest digitals, to a few stores that specialized in older, more interesting cameras. We bemoaned the fact that the small, unique stores were getting swallowed up by slick, flashy stores specializing in digital toys and video. I think that's true the world over, and it's sad to see … but not all things unique have been swallowed by corporate giants, and this was proven to me when we went to a famous local restaurant called Din Tai Fung, where we feasted on dumplings and dim sum. The dumplings were the most amazing little creations. They consisted of a small mound of meat and vegetable filling, swimming in juice, enclosed in a dumpling wrap. When you popped them into your mouth, they just exploded with flavor- truly a world-class culinary experience. This was the best food I ate on my entire 3 weeks in Taiwan. After dinner, we wandered over to snake alley, where we watched a 3-fingered cobra handler taunt his snakes, and announce to everyone about the health benefits associated with consuming snake parts.
Wulai- Aborigines and Near Death Experiences
Sunday morning I got up early and took the train into Taipei, and from there we set out for the aboriginal village of Wulai, which sits near the trailhead of an ancient trail that has been used for centuries by the Taiwanese aborigines to get from one side of the island to the other. Our plan was to ride to the peak, then turn around and bomb down the mountain. The order of the day – Azonic Saber; Kona Stinky; Trek downhill - and me on a Voodoo steel hardtail. The trail started out nice and wide, but quickly narrowed to winding singletrack snaking through the palms, elephant ears, and vines that make up the jungles of Taiwan. Occasionally, the trail would cross a stream or lead us past a waterfall, all the while leading us up the mountain on a gradual slope. As the trail got steeper, I really began to feel bad for the downhill bike riders.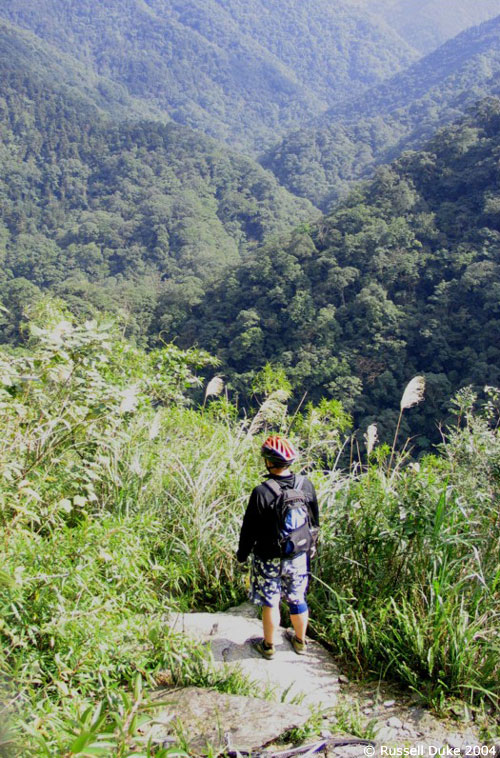 Every now and then, we would stop, re-group, take a breather, and then set off again. At our 2nd or 3rd stop, a little aboriginal man came strolling down the trail, with a long, primitive rifle slung over his shoulder. When he saw us, he let out a startled yell, and over the next few minutes, about a dozen of his buddies followed him up the trail. Many of them were drunk, all were armed, but they seemed friendly for the most part, and explained that they were returning from a night of drinking and hunting in the woods. They were amazed that we were riding bicycles on the trail, and seemed to think that it was an interesting, but slightly foolish activity. We took a few pictures with them, they poked at the bikes for a minute, then said our farewells as we rode off down the trail. When I looked back a few seconds later, they had vanished, not to be seen by us again.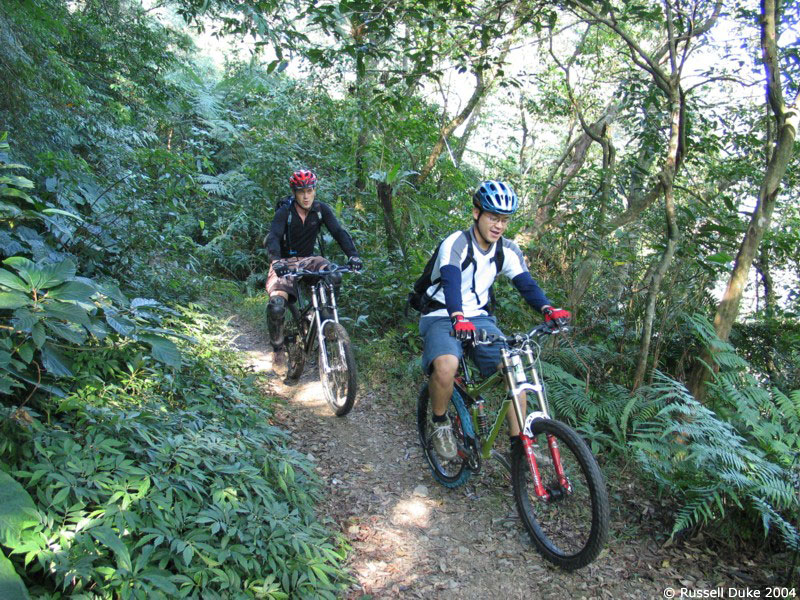 A couple of times, the trail was blocked by fallen boulders, forcing us to shoulder the bikes and clamber over the trail blockage. The guys on the downhill bikes were really hurting at this point, but kept plugging along, sometimes pushing, but never quitting. At one point as we climbed, we saw an ancient vine covered wall, and realized that we were riding by an old structure of some sort. Maybe it was an abandoned village, or perhaps a retaining wall for crops. I was wondering if there was an ancient aboriginal city buried under all those vines….kind of a Taiwanese Chichen Itza. We rode across more stream crossings, little wooden bridges, and through bamboo groves as we kept cranking for the summit. After a time, we passed through another small hunting camp, where the local boys had killed a small pig. Many times the trail followed the ridgeline, with an abrupt drop off the far side. I was warned about going off the edge on the way down, and cautioned that I should not try to keep up with the full suspension crew on the descent. I answered that I never ride faster than my guardian angel can fly, but silently filed these words in the 'excellent advice' mental file.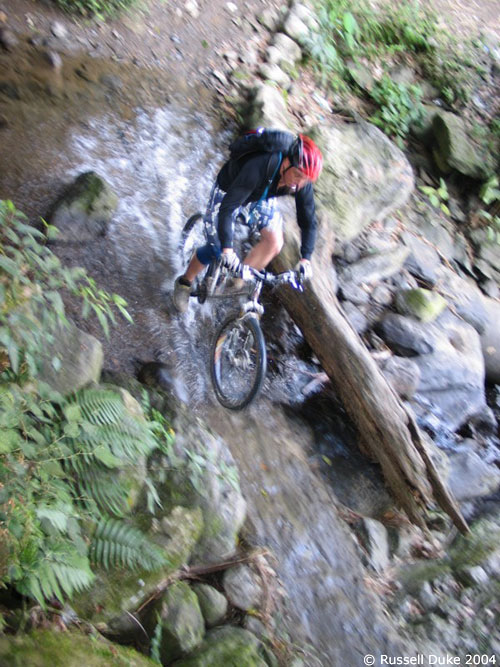 When we finally reached the turnaround point, we all collapsed and pigged out on trail mix, Twizzlers, complimentary hotel crackers, and some vile energy gel sold in Taiwan called 'Energy In' ... it's kind of like tart tapioca pudding ... kind of nasty, but it seemed to hit the spot. The view at the turnaround spot is really nice, with an incredible overlook of the valleys, and the surrounding mountains. It was really cool to lounge and re-energize deep in the mountains of Taiwan. Looking out over the summit vista, I was again amazed at the contrasts of Taiwan.
When we turned the bikes around, I took the end position, because I knew that these guys were going to be flying, and sure enough they disappeared within seconds. They are all very good riders and the full suspension bikes just soak up the rocks and logs like they are nothing. Speed comes instantaneously on these downhill trails, and the trick is to relax and just let the bike flow over the rough stuff. I was having a great time, and every so often, the gang would hold up to wait for me, re-group, make sure everyone is ok, then take off again. I was acutely aware that a mistake could be very serious, so I took it easy when I was near a ledge, then I would give the bike it's head in the forest, splashing through water crossings, railing corners, and generally whooping it up. Even riding cautiously, there was one time when I over-ran the trail and skittered to a stop mere inches from the edge of a cliff. The crew had stopped to take some pictures, and as we sat for a minute, I was quietly reminded… 'Russell, you almost went off that cliff". I looked back and said "Yep". And then off we pedaled down the trail. Breathe in, breathe out, breathe in, breathe out.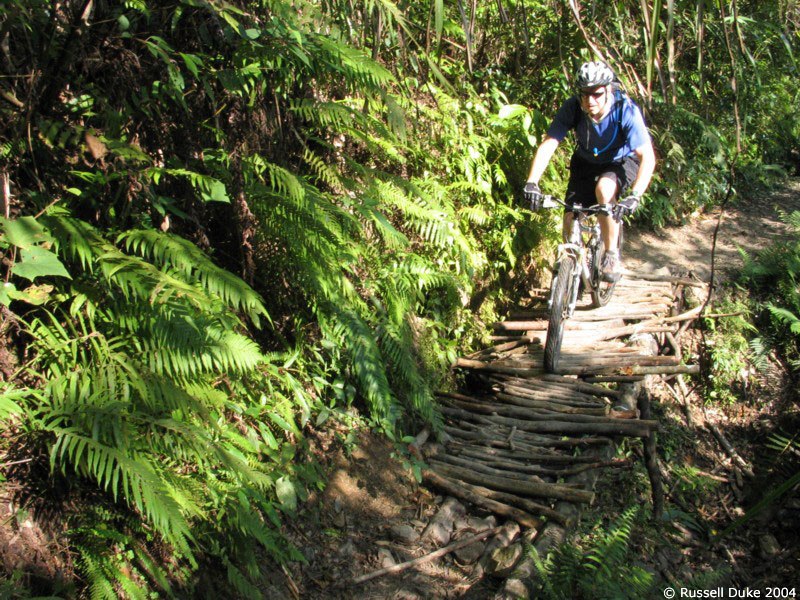 What took hours to pedal up, took less than an hour to bomb down and before long we were at the trailhead. I looked at my legs, and observed that they were the perfect mountain biking legs. Old scars, new scabs, fresh blood ... all covered by dirt and mud. Was it a good ride? Yeah, it was a good ride.
Nankang - Karaoke in the Mist
For my third and final ride in Taiwan, I hooked up with the organized rides from Alan's Mountain Bike Shop in Taipei. Despite a steady drizzle, Alan and a group of local riders were going to ride a series of trails in Nankang, and I asked if I could tag along. These trails would be a little different because they were located in a fairly well developed area, and getting from trail to trail involved riding by gardens and farm plots, through city streets, and right through people's backyards. To get to the trailhead of the first trail, we warmed up with a fairly brutal climb on a paved road. For the last 1/4 mile, it was granny gear all the way. Once on the trail, we railed down a sweet section of downhill singletrack, which had a few intense sections, but overall was a great mix of singletrack, roots, and a few slippery rocks. After the downhill section, we hopped over to a very nice loop of trail, which wound through bamboo, and over some nice roots and rocks. At one point, I began to hear a noise, kind of a warbling, wavering falsetto, that seemed strangely out of place … drifting through the woods on a drizzly Sunday morning … within a few minutes, we rolled up onto a clubhouse where some friends had gathered together for a little karaoke fellowship. These guys were serious about their karaoke, but that's different from being skilled at karaoke ... still, it was an interesting capper to a great series of rides.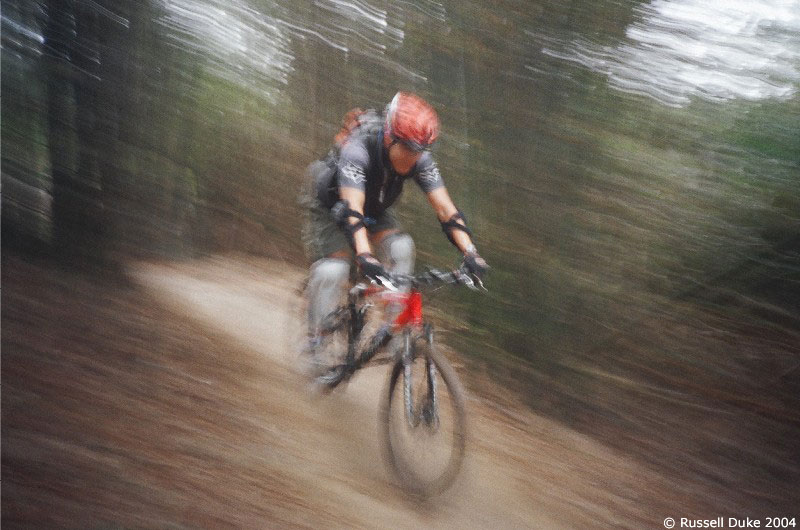 After the ride, I headed back to my hotel. People stared as I slogged through the lobby; muddy, helmeted, and camelbacked, but I knew that I had seen things on this trip that most of them will never get to see ... I had gotten off the beaten track, and onto the singletrack. I had done something very cool - I had made new friends and ridden mountain bikes in Taiwan. And now, as I sit on my front porch in Austin typing this story on my Powerbook, I find myself wanting to go back to ride the sweet trails of Taiwan.