Following the visit of the Kiwi "Bee", a high energy expat biker from Korea, and his devastating attack on the Taipei trails, the FFTA decided to retaliate with a four day assault on the mountains surrounding Seoul.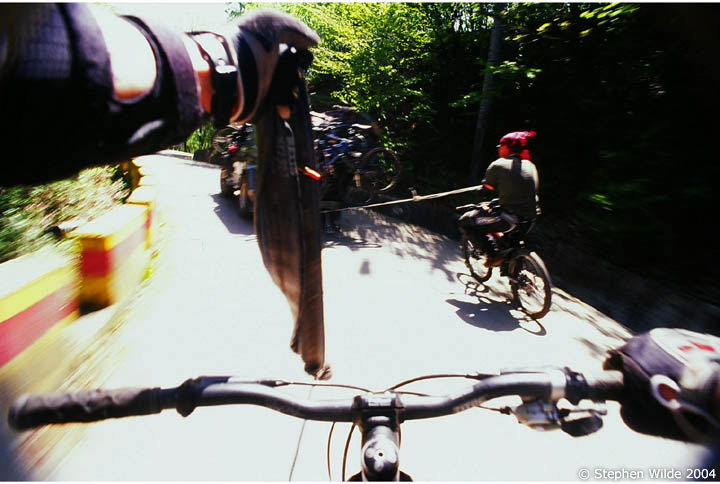 On Wednesday 21 April we left behind the lush mountains of Taiwan. 2 Downhill bikes, 1 Free-ride bike and a weekend of riding ahead.
Day 1
The fun began at Chiang Kai Shek airport with baggage handlers all scratching their heads over how to deal with unusual luggage. After much confusion we arrived at the baggage loading area in the basement, and nervously watched the bikes disappear on a trolley.
Expecting warm spring weather on arrival, we come out of Incheon Airport terminal dressed in our loud hawaiian shirts, only to find things disturbingly chilly.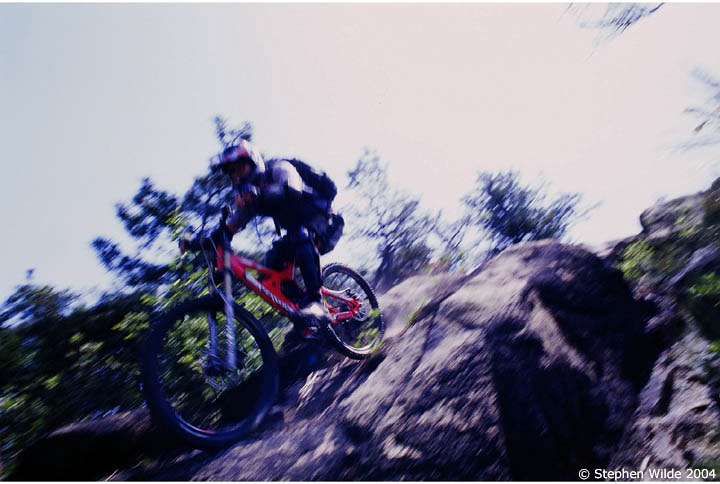 After being rebuffed several times by bewildered bus drivers, we resort to the usual FFTA tactic of ignoring all protests and carrying the bikes onboard ourselves. We're pleased to see that it is equally effective in Korea. Eventually we're cruising the motorway with bikes piled on the seats opposite, and with the driver quietly muttering to himself.
Arriving in Itaewon, which is the main location of the US military presence in Seoul, as well as being the centre of sleaze, we meet the "Filfthies". A happy mixture of guys from the US, UK, Canada, Australia and NZ: all with a passion for riding. Second to this is a passion for drinking and talking about riding. Throughout the evening there is talk of six foot drops, and various references to carnage and bike busting trails with names such as "Rock Monster", "The Gates of Hell" and "The Valley of Death".
Eventually we head down to load up the bikes in preparation for tomorrow's riding and come face to face with the "Bongo". We stand there amazed by this huge twin-cab truck with a flat deck out the back. This awesome machine stretches 7metres long, and is totally suited for mountain bike transport.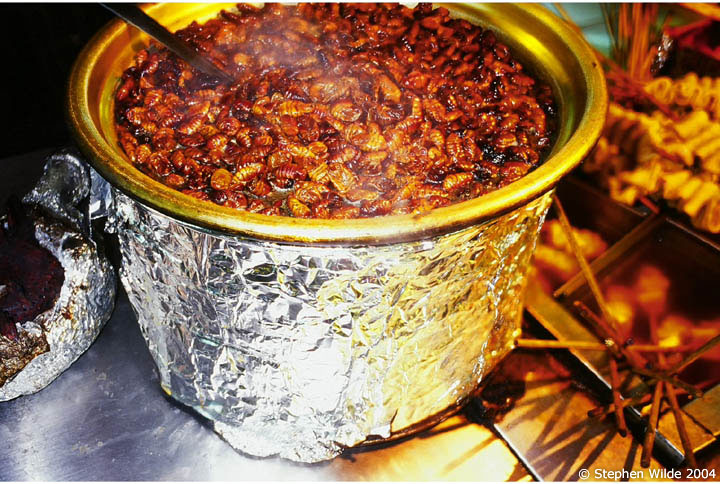 After loading up we head back to the bar, and it's not until midnight that we remember that we're still not checked into a hotel. Bee takes us to a sleazy hotel down a sleazy alley. It seems strange not being able to communicate with the locals as we do in Taiwan, but after some interesting sign language and waving of arms we're finally settled in for the night.
Day 2
We're up early for the first introduction to riding in Korea. It's a chilly grey day, but there's a large contingent of riders available.
Today we're going to Namhan Sanseong or "Bug Mountain" as it is known amongst the Filfthies. Namhan Sanseong is a regional park and the site of the historic Southern Mountain Fortress.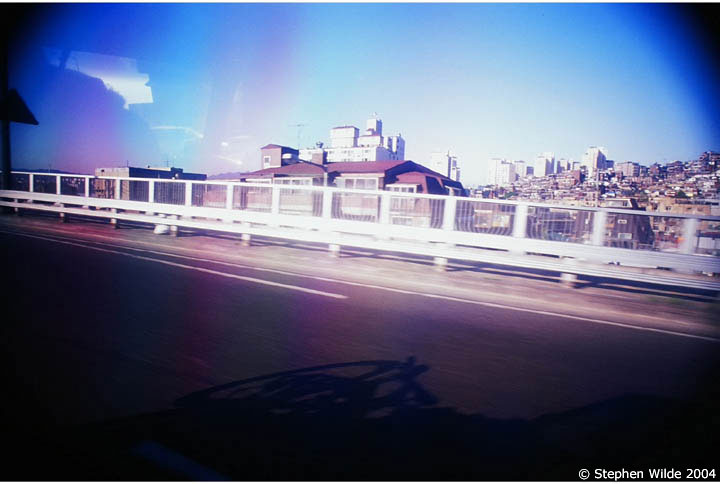 Leaving the inner city area we are immediately struck by the manicured beauty of the surrounding hills. It all seems so sanitised in comparison to the high-density chaos of Taiwan, and it's wild jungles.
The first run is down an undulating ridge marked by reconstructed fortress walls. Looking down, this resembles the Great Wall of China, but as the Filfthies say, it's more appropriately described as the Minor Wall of Korea.
It's mid-week but the number of hikers out walking is staggering: more so than any weekend scene in Taiwan. We're thinking we should wait for the line of hikers coming up to end before starting the run. But then we realize: this line is'nt going to end! … so we follow the lead of the Filfthies and begin our descent.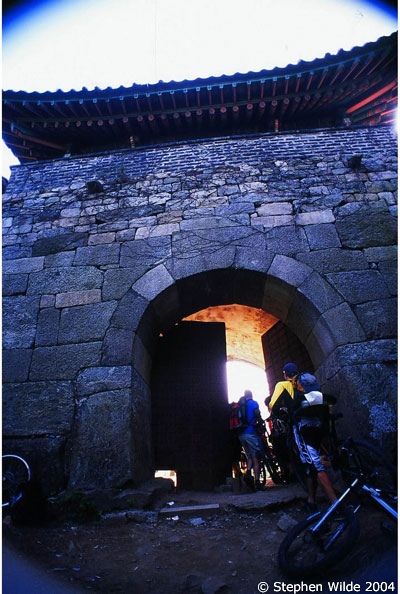 We're amazed by the tolerance of these people. The Filfthies are flying past hikers with inches to spare. Luckily the locals are often frozen in position like rabbits in headlights. The cheers of admiration and encouragement from the locals seem very reminiscent of the hikers in Taiwan. At least, we think that's what these Koreans are yelling, as we speed past almost wiping them out.
At the bottom we load again onto the Bongo and go back up the mountain to a Helipad, which is the main starting point for several beautiful trails radiating off the mountain. With names like "Nutcracker", "Digestive Tract" and "Spankinator", we're excited but also a little nervous about getting left behind.
Bee says "It's okay, we'll leave skid marks…" as he and the others race off. We find it's important to maintain contact with these guys not only to avoid getting lost, but also to know the line to take. Once we fall back we know we can't catch up, and are forced to learn the trails by trial and error.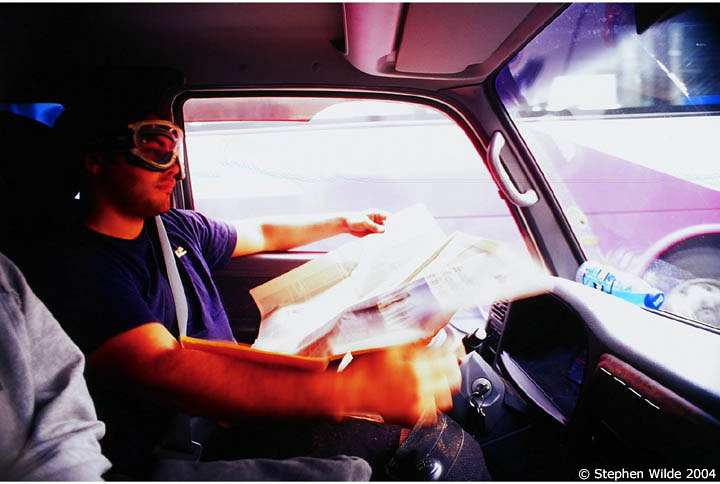 We do one of the main trails, which is itself called "Bug". This has wonderfully steep sections sliding down through trees, and culminates with an adrenalin pumping rock garden. It's here that knowing the line and maintaining momentum is important to avoid getting hung up on some jagged rock. The Filfthies go through this like it was nothing. Trailing at the back, we are like novices in some kind of video game. During the initial runs I keep getting bounced into holes with no escape, and each time there's like an electronic voice in my head saying "Game over sucker! Try again!"
The whole mountain consists of a wonderful combination of dirt, rock and tree falls winding through an open forest. It seems you could make a trail anywhere you wanted simply by riding it a few times. Re-grouping again at the bottom, we begin to realise these guys are living in a mountain-biking paradise, with over twenty trails available from a single mountain: each with very different and unique characteristics.
It starts to rain, but traction remains firm and the mist in the forest is magical as we explore all these wonderful trails in a succession of shuttles all day long.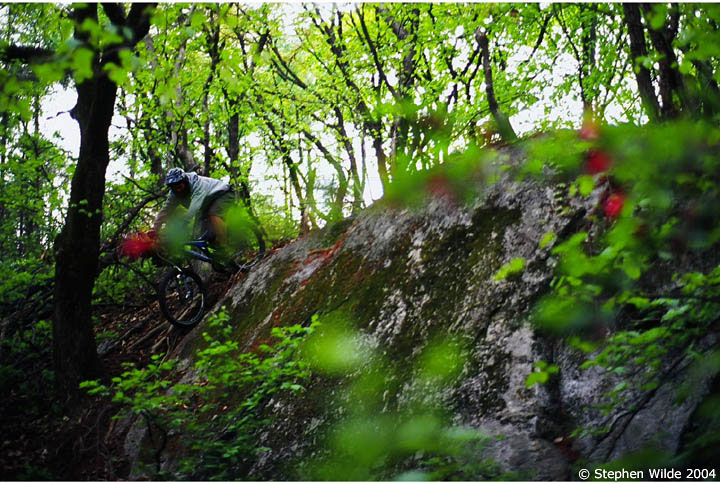 We finish the day with "Digestive Tract". This was discovered on a rainy day, and named because of it's tendency to swallow riders down a greasy winding chute. Although traction was good, the prolonged steepness had our legs shaking as we arrived at the bottom. This was one of the most demanding trails so far, and was a great finish to our first day riding.
We are shattered. We're not used to doing so much intense riding in one day. On top of that we need to go searching for a slightly less sleazy hotel. Luckily Bee is working tomorrow and we can have a rest day.
Days 3 and 4
After a day spent wandering around the city with stiff and tired limbs, Saturday dawns fine and crisp. We're scheduled for another bombing session on Bug Mountain. Only today the Bongo is not available, and we're all crammed into Bee's jeep. By the time we're loaded up we have 7 bikes and riders piled on. The whole thing looks like a battleship as we barrel down the highway. Everything about this vehicle is typical of Bee himself: heavy-duty, full-on, and a lot of fun.
On the way up the mountain we stop at a point along the fortress wall, where the Filfthies get out to examine a 2 metre drop onto concrete steps. As they talk earnestly about the correct line to take, the same thought is running through our minds: these guys are nuts!
Brad: a 7 foot tall American is the first to try this. It's difficult to imagine how a bike can take the dynamic loading of such a big guy, but he makes it look easy. Similarly with Bee, who, in keeping with the jeep, rides a heavy-duty, industrial type bike with Monster T forks.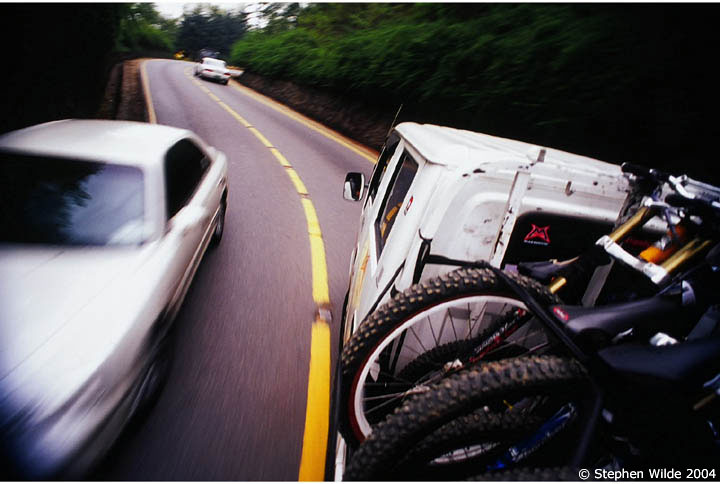 The highlight of today's riding is the Nutcracker trail, which features a steep continuous rock face. This takes me by surprise. Luckily I am directly behind one of the Filfthies and follow automatically without thinking. Suddenly, I find myself careering down a long, long rock face and trying to maintain a straight line. The two of us are in chorus yelling WAAAAHHHH! I'm a nervous wreck as I get flushed out onto the trail at the bottom, but in the back of my mind there's a small voice saying "that was so cool!"
We follow again with the rock garden: each time getting faster and more used to the lines. Whatever fun we had on Thursday, we're having double today.
After lunch, the Filfthies want to do the "HoneyBee". Aside from the initial ride uphill, which has us whining and complaining the whole way, "HoneyBee" is an aptly named sweet trail, which flows beautifully. This is punctuated midway by a perfect jumping ledge poised 5 feet above the trail, and for a wide-eyed novice jumper like me the temptation is too much. Forgetting that I'm in a foreign country and with no medical insurance, I take my turn with the others. But unlike the others, I find myself leaving the ledge with not enough speed, and then immediately stalling into a vertical position.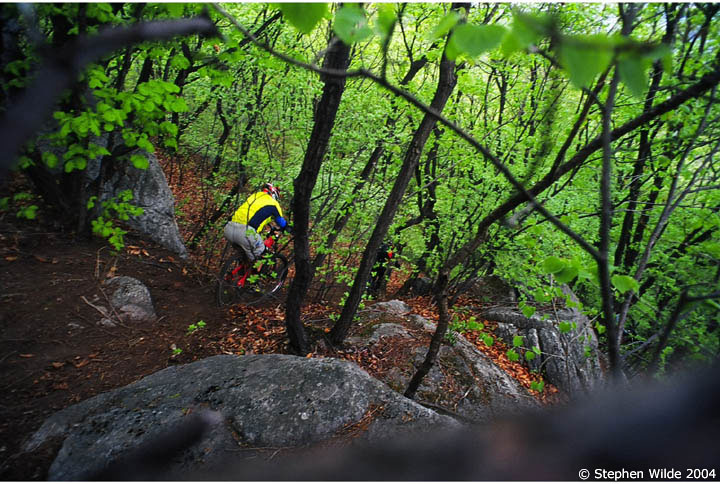 There's just enough time to register that sick anticipation of pain, and sure enough I hit hard with my head folding forward under my bike. There's a horrible crunching sound, which is either my helmet or my neck. I suspect the latter, since there is suddenly no feeling in both my arms. Lying dazed for a minute or so, the feeling in my arms eventually returns and I'm relieved to find that all my appendages still work…kind of.
I limp away from the scene and I'm determined to take it easy down the rest of the trail, but before long I'm reveling again in this great trail. Every bump makes my head feel like it's been jammed into my body with a metal spike, but it's impossible to resist the awesome flow.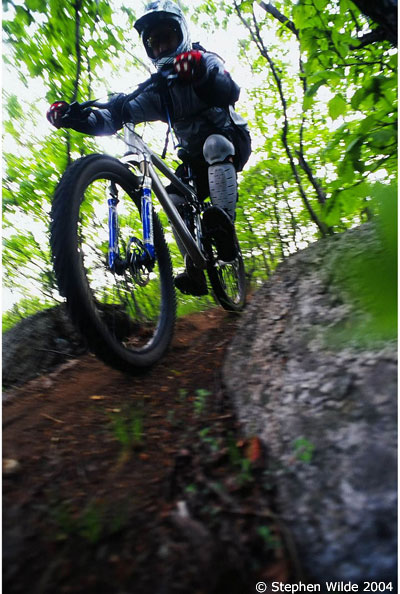 At the end there is a long walk back up the mountain, but there's no question that it has been worth it. We finish with a final run down "Nutcracker", and then a Korean meal at the road end. We're all wandering around like zombies as usual that evening. Myself in particular, due to my injury. Tomorrow the riding will be at a mountain located towards the south-west of the city: the revered "Achasan – Goddess of Granite".
Day 5
In spite of Bee's promises to fulfill his patriotic duty and attend Sunday morning's ANZAC dawn parade, he is up late - which suits us just fine.
We hit the highway in battle-cruiser mode once again, and eventually meet up with the rest of the Filfthies at the foot of Achasan. The push up with bikes is steady, and soon we pop out above the tree-line to a glorious view of Seoul and the Han river. Ocassionally we stop to watch the Filfthies do some granite drops and take photos.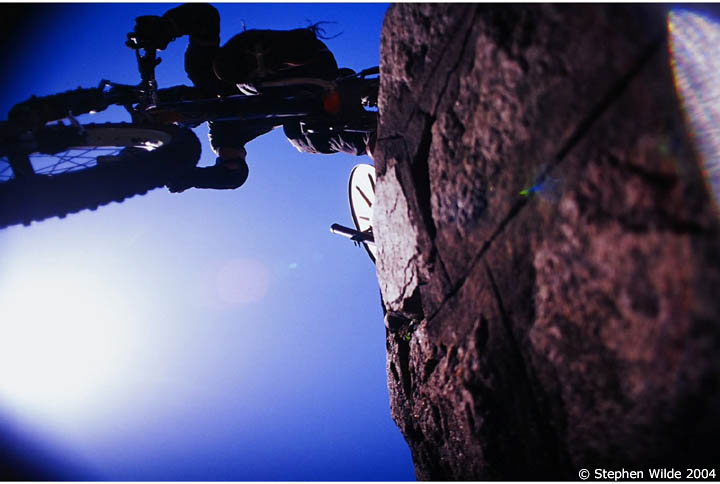 As expected, the mountain is inundated with Korean hikers. Many are dressed in the latest mountaineering gear and looking like very serious walkers. It's a perfect day, and the trip up is generally mellow and relaxing. It's worth it for the view alone, but we have the added bonus of riding down a trail called "Middle Finger".
We're not disappointed. From beginning to end, this trail rocks through a tight, winding chute all the way down the mountain. At the bottom we celebrate an awesome 3 days of riding with beer and strawberries, and say farewells to a great bunch of guys. The Filfthies are going back up for another run, but we have a plane to catch.