The Central Cross-Island Highway is a narrow winding highway cut into a steep, beautiful mountainous area. More than 80 km of nearly continuous downhill is possible.
Late one Thursday night in the headquarters of FFTA, a daring plan was conceived. It began as a proposed day trip to Hualien, then evolved into a major, high-speed, downhill mission in the central island mountains of Taiwan. The plan was simple, but brilliant. Starting from the top of Ho Huan Shan at 10,000 feet, a descent down the Cross-Island Highway, through the famous Taroko Gorge, and eventually rolling out to the East Coast near Hualien - more than 80 kilometers of non-stop downhill action!!!
Day 1: Taipei - Puli
The success of this mission relied on the loyalty and dedication of four renowned downhill fiends: Patrick, Geoff, Dennis and John. Code-named "Team Tai-Rooga" (a phonetic pronunciation of Taroko in Chinese), they rendezvoused at 11pm on Friday night to board the last bus to Taichung. John had been involved in a similar mission a few months before, and given his detailed inside knowledge of the area, was therefore appointed Official "Trailmeister".
After finally arriving in Puli at 2.30 am, each went searching for a place to nap before catching the early morning bus up the mountain. Demonstrating their legendary resourcefulness, Patrick and Dennis found a timber bench in the bus station, Geoff a sticky leather sofa at a taxi stand, and John, a nice slab of concrete on the roadside.
Day 2: Puli - Tienhsiang
Next morning the boys were feeling groggy but excited. With the bikes loaded on the back seat of the bus, they headed up the mountain past stunning views of the Wanda Reservoir below Wushe, eventually stopping at Tsuifeng: a point some 10 km short of Ho Huan Shan. The plan now was to catch a ride on a local truck the rest of the way to the top.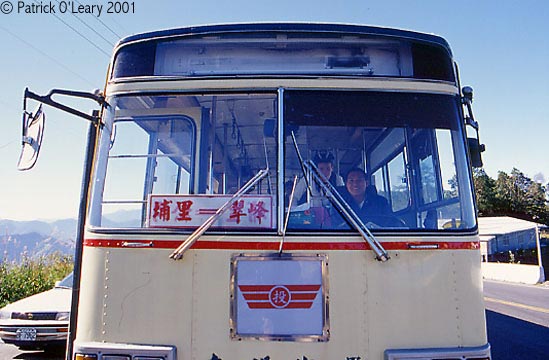 There they were: ahead of schedule, eager, excited, and on top of the world. It was the start of a beautiful day. They were within striking distance of the biggest downhill run in Taiwan - but at this point things started to wrong.
No one really knows what happened, but someone mumbled something about maybe riding up to the summit, and in a fit of bravado this took hold. "Yeah, can't be that far"... "Yeah, I reckon we're almost at the top already"... "Yeah, I wouldn't mind getting a bit of exercise before riding down". Suddenly no one could back down. Grinning nervously, and doing their best to look tough, our intrepid team set off, pedaling uphill in the dry mountain air.
After two hours of this nonsense the boys were strung out in various stages of exhaustion. Patrick was having hallucinations, Geoff and Dennis were babbling incoherently to each other, and John was in tears. "I'm pretty sure the next hill is the last one," he sobbed over and over again.
The sun was beating down now, the air was thin, and the boys were dry, but finally at 1:00 pm they got to the top. After all the coughing and wheezing died down Geoff whispered "Well.....that wath'nt too bad....", "Nah, .....not too bad" gasped Patrick. "Yeah....I knew that wath going to be the last hill" John said, drying his eyes, while Dennis just lay unconscious on the grass twitching occasionally.
But there it was spread out below them. A breath-taking view of the East Coast with a winding road cut into the side of the mountain. Down, down and more down. The chill of the first short run brought everyone back to their senses, and after pulling on jackets the glint slowly returned to their eyes. Team Tairooga was back in action!!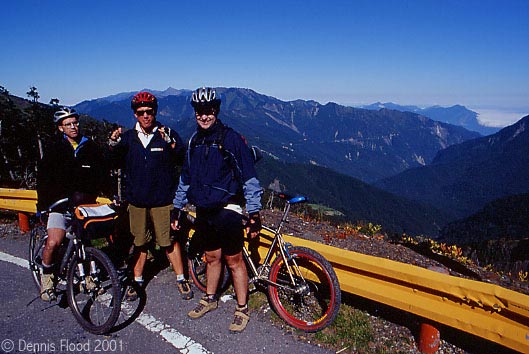 Steadily at first, and with regular photo stops, the boys made their way down. Then as their excitement grew, faster and tighter through corners, jockeying with occasional cars, and reveling in the scenery as they rolled from village to village in the never-ending downhill. But after an hour of hysterical laughing and whooping, suddenly it did end. Curving around into a valley and through a tunnel Team Tairooga slowly slid to a stop at the beginning of what was an unmistakable upward incline. The boys all went quiet and looked at each other with a mixture of confusion and horror. "Um....I think this is just a small hill" Official Trailmeister John said, his lower lip trembling slightly. Geoff went white. His mouth was moving, but no sound came out. Dennis started twitching again, and Patrick promptly threw up.
No one recollects clearly what happened after that, but the boys eventually found themselves sprawled on the roadside 1000 feet higher up, and staring blankly down at clouds in the valley below. "Yeah...um, sorry....forgot about that other hill" says John nervously. "It's all downhill from here though.....um....I think".
"What about tunnels...are we gonna need lights??" Patrick gasps between dry retches. "Nah" says the Official Trailmeister.
Evening is approaching, and the air is noticeably cooler. Once again, the downhill brings everyone back to life. The lead alternates, with the occasional warning "Car!", "Truck!!", "BUUSSS!!!!" being passed back as they hit the corners.
John is in the lead going round one corner, and then suddenly is in a tunnel. Unlike the previous ones, this one has no light at the end. It starts to curve and he hits the brakes in the total darkness. All Patrick and Dennis can hear is John yelling "WAAH!!!", and sound of Geoff's skidding wheels very close behind him. The two eventually come to a standstill in the pitch black. John can feel Geoff's breath on the back of his neck.
Patrick cycles slowly past the two of them saying "Hey, good thing I've got a light". John replies "Oh....yeah, I remember this tunnel now...it's quite a long one". Team Tairooga continues down, but with Patrick leading the way through several more long, dark, spooky tunnels. Each one is marked by the official trailmeister comment: "Oh right....forgot about this one as well", "Oh yeah, I know this tunnel....hey, it's a shame we didn't all bring lights, eh", etc, etc.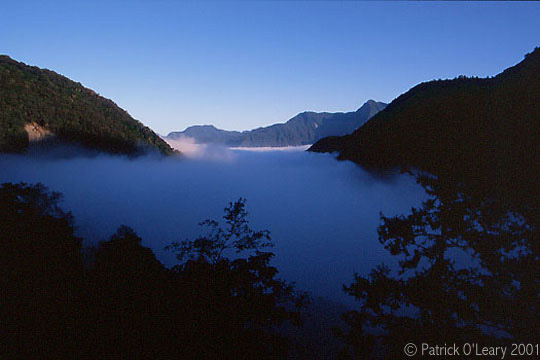 The down goes on and on, with the earlier uphills eventually forgotten. Finally Team Tairooga hits cloud base, and the light is magic as they descend through the mist. This marks the last photos of the day and just on dusk they roll into Tienhsiang. The evening is spent at the Catholic Hostel nursing sunburn, and aching muscles but everyone is on a high.
Day 3: Tienhsiang - Hualien
Yet another beautiful day in the Central Taiwan Mountains. The road is not so steep now, but it's still all downhill for Team Tairooga, and mellow riding through the awesome Taroko Gorge. Today is official photo-shoot day. Geoff and John as official models, and Patrick and Dennis as Photographer/Wardrobe, with a view to making Team Tairooga look officially very tough.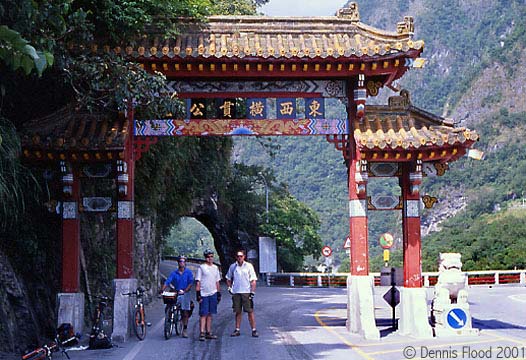 After a leisurely trip in and out of tunnels along the steep sided gorge, the road levels out alongside the river, and it's flat all the way out to the beach. Then it's a long, dusty 15 km haul down the coast. Team Tairooga stops for a final team photo at the entrance to the gorge, and then it's every man for himself in the race to the first 7-11 outside Hualien. The boys eventually re-group after filling up on junk food, and push onto the railway station, stopping only to leer at Binglung babes along the way.
Another epic Mission Adventure brought to you by FFTA!
Ride name Taroko
Location Central Cross Island Highway, Taroko National Park
Terrain Scenic Mountain Road
Length Approximately 100km (depends on starting point)