A small, but fun riding area near Taichung in Central Taiwan.
The Playground is best described as a natural BMX/Motocross area, with potential that has not yet been harnessed or developed. In an area the size of a football field, you'll find dozens of vertical drops, steep descents and climbs, bermed corners, whoop-dee-doos and more.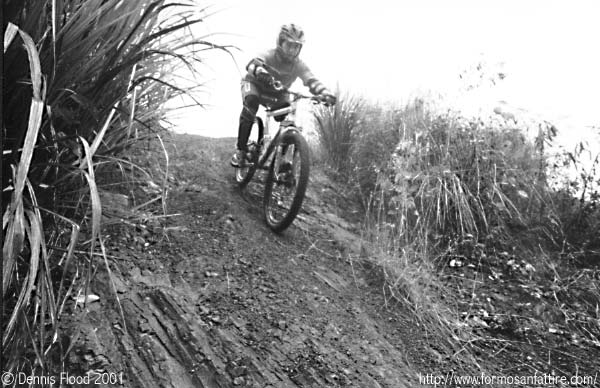 Being Taiwan, this area has seen some abuse. Garbage is never far away (which is likely why some of the 'Chungers we've talked to called it The Dump,) but fortunately it was rarely on the prime riding areas. At some point in the past, the Playground must have hosted some sort of riding event. Reminants were visible during our visit, including trail marking tape in a few locations, and ground markings warning riders of the most dangerous drops and crevaces to avoid.
The Dirty Word
What may have once existed as a racing course/loop is currently not rideable as many trails that we found were heavily overgrown. We were only able to find about a 5-minute loop that was still passable. So, this is not really a cross-country venue in its current condition. From what we've been told, there was some good riding - with a bit of time and some large machettes, there could be more trail riding in the future.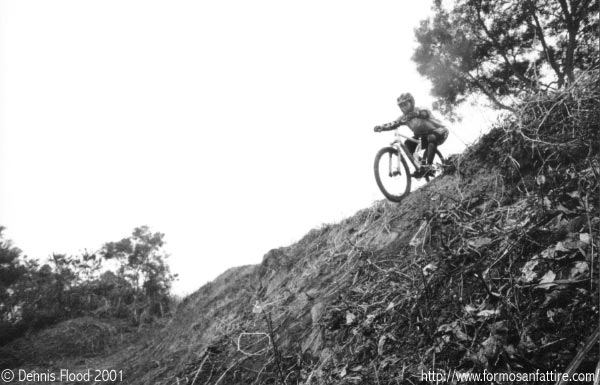 Much of the beauty of The Playground was in its compact variety - the rider is able to pick and choose what he or she wants to ride, which makes this a great place to develop your bike handling skills. It is well laid out for those who want to progressively build their confidence on steeper sections. Riders will find it ideal for practicing steep climbs, carrying speed through bumps, jumping skills and also high-speed cornering.
Although it varied quite a bit considering the small area, the soil was generally grey and sandy in texture - almost like volcanic ash. It tended to be quite loose - this made the inevitable crashes much more forgiving than the rocks and roots of the Skilift or Maokong. However, its inconsistency was difficult to manage, as it traction would come and go at seemingly random times.
The Playground has great potential for riders looking to build obstacles. In the collecting area at the bottom of most of the steep drops and chutes sat a large, flat, open area. This would be an ideal spot for all sorts of man-made fun to compliment the natural highlights. Obviously some other riders have thought of this too - a teeter totter was waiting for us near this area. We left a small jump as our sign of respect and encouragement for those who will follow us.
The Last Word
The Playground is kind of isolated. Although you could ride back towards civilization for food and water, you'd be better off bringing your own and planning to stay and play for a few hours. A first aid kit and some protective gear would be well worth bringing too. There is a small temple on the way back into town to rinse off bikes and riders if necessary.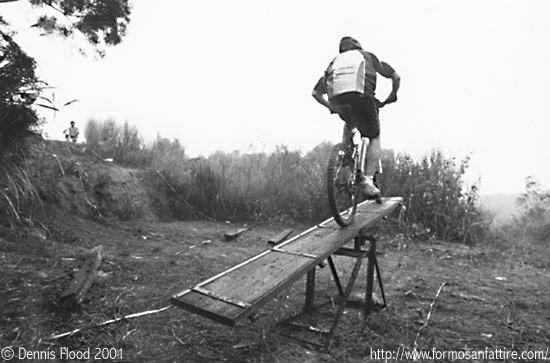 There are no signs for the playground. It is east of Taichung, a few kilometres past the large Cannondale Shop on Taiyung Road. Just after split-lane highway merges into a two lane road, a crumbling cement road appears to the left. The Playground is near the top of the hill.
The Playground is worth a look. I wouldn't suggest that riders from far away places make great efforts to visit this place. However, if you're in the area and have some time, give it a look. Leave your hardtail at home for this one - if you don't, you'll just wish you brought your squish.
Ride name Taichung Playground
Location East of Taichung
Terrain Natural BMX-style terrain, steep downhill