When you're not baking in the sun, there are a wealth of trails and rides to be discovered in the South of Taiwan.
How does one define joy? Endless rolling hills of open singletrack overlooking azure seas? Riverside trails? Fast downhills at sunset? Beers on the beach after a ride? How about scantily clad women in vinyl bikinis selling natural amphetamines? How about twenty scantily clad women in vinyl bikinis selling natural amphetamines?! If any of this appeals, then the bus ride from Taipei to Kenting, a small beachside town in Taiwan's south, is just the ticket for a weekend of riding and a break from the pollution of the city.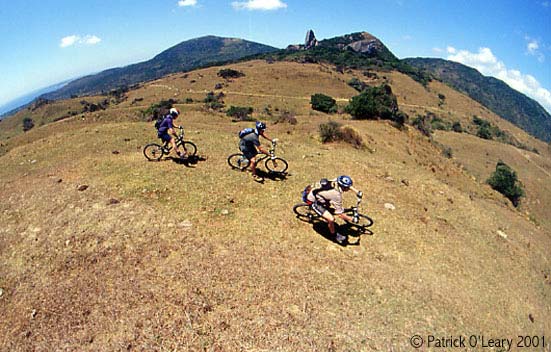 A rancho-relaxo style coach from Taipei will, if taken late at night, transport you to Kenting, in around 5 hours, depending on traffic. Bikes can be easily stowed under the bus. Just bring food and either a desire to sleep or to be bored senseless with movies starring George Clooney. I recommend staying awake until Taichung. Here one can indulge in some of the most bizarre and eye-popping displays of roadside betelnut selling in Asia. Block after block of near naked women hawking both their wares and those of the product they so ably proffer.
Our arrival in Kenting was perfect. The sky was clear, the ocean sparkling in the first few moments of the day and the birds cheerfully signalling the start of our adventure. After checking in at the way too cheap, way too clean Catholic Hostel in town we fuelled up on a hearty breakfast and fresh water. Then we rode...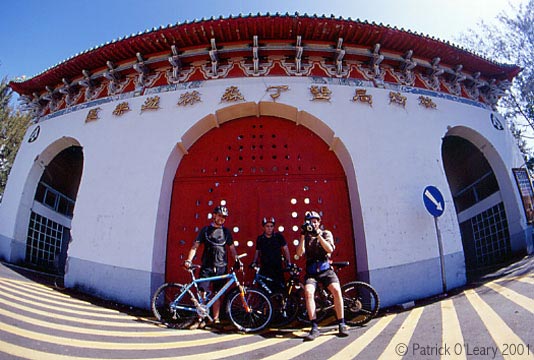 Riding opportunities abound in the area around Dajianshr Mountain, the most obvious landmark inside the national park itself. Here is where most of our first day of riding took place. We had heard of the Cow Pastures trail, in the mountains behind town were easy enough to find. After you enter through the main gates of Kenting National Park, you take the first left, then.... well, choose your own adventure basically. Choices range from open singletrack, miles of vague trails in need of exploring, quick downhill sections, or jumping/drop playgrounds. A word of warning - the heat can be unbearable even in the spring and autumn months. The cow pastures is a great day half day ride, smooth trails, beautiful scenery and inspiring vistas back to the ocean. According to our group mountaineer/canyoneer/all-round ladies man, the area is also magic for cliff climbing. Also, don't be fooled - riding uphill for 5 hours does not make for a glorious downhill. The trails appear to wind on through the numerous hills and valleys, connecting to who knows where but certainly tempting the FFTA back another time. We punished ourselves hard on the climb convincing ourselves that the more we climb the better the ride back down would be. The descent is dusty and pretty rocky, but offers stretches of fast paced, smooth fun with opportunities for drops and crazy lines. We made it back into town around mid-afternoon. Perfect time for a swim and a rest. However, the desire to explore was too much, dragging us out of the air con and back on the trail. Just before sunset we opted for a short climb up a jeep track in the hills behind the resort hotels. You can climb this area all day if you wish, but as the sky darkened we turned tail and enjoyed a fast, smooth downhill back into town, the wind in our faces, framed by the setting sun.
A highly recommended dinner stop is Warung Didi, a cozy Thai cafe/restaurant on the main street. Just look for heaps of people waiting to be seated. There is plenty of nightlife and markets to keep you going all night, great beer halls, plus there is always the beach. Breakfast? Anywhere really. Taiwanese style breakfasts are outstanding.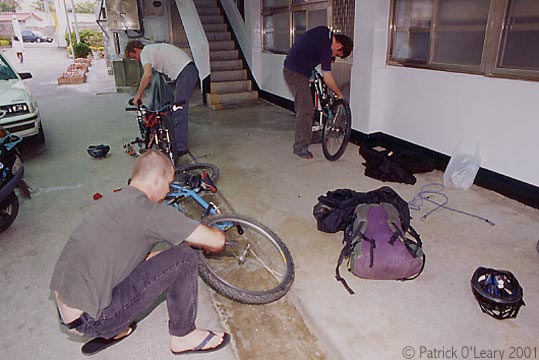 On Sunday we awoke early to another beautiful day, with the warmth in the air aided somewhat by the 'minor' accident at the nearby nuclear power plant. Yep, there is a nuclear power plant IN the National Park. But hey that's Taiwan for you. Green ooze aside, the previous days heat had turned our otherwise fearless leader to toast, leaving him bed ridden! Unconvinced we had exhausted the Cow Pastures area of trails the remainder of the group decided to try and hunt down further trails. Following the same route as Saturday, we headed further down the road to the location of the annual Spring Scream Festival. Look for the water treatment plant. Head down the small lane beside the plant until you hit dirt. This particular trail is a great winding ride across flowing streams, accentuated with short sharp climbs, quick downhill sections and shade! I wish we had more time to explore this trail as it offers great potential for future adventure. But alas, it was not to be. On the way back down the trail, and after clearing a nice jump, I gathered a little too much speed. I also failed to avoid the deep ruts in the trail that I had mentally noted on the ride up. After much braking and clenching of teeth I reached for the front brakes and launched myself over the bars onto stone. After some fine ER work and patching up from my trusty buddies I managed to slowly make it back to base camp.
We caught the lunch time bus home to Taipei, a monster 8-hour trip filled with more George Clooney, absolutely shit house roadside food and a dripping AC. A cruddy way to finish an otherwise great weekend. Bikes, buddies and beer.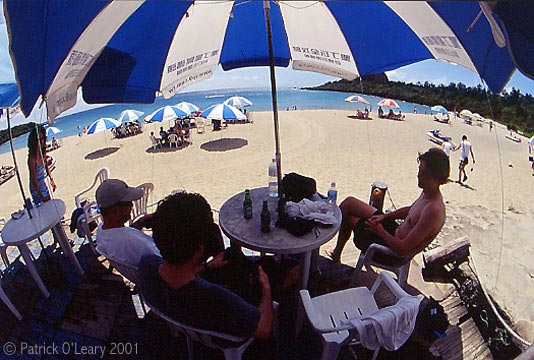 Kenting is a great place to visit even if you don't ride. The weather is magic all year round, except during the typhoon months from late July through mid-September. Clean beaches, friendly locals and endless mountains. Formosan Fat Tires will be back.