Take a ride down Taiwan's magical east coast with FFTA guys Geoff and Patrick.
FFTA guys Patrick and Geoff decided to try their hand at road touring with a three day jaunt down the East Coast of Taiwan this past summer. With their panniers secured and knobbie tires traded in for slicks, the two set off one morning from Taipei with the goal of making it to Taitung.
Day 1 - Taipei to Suao
"I was looking to bypass the most dangerous road in Taiwan, but fearing reprisal from our resident roadie John McHale, a man who has ridden through Pakistan and China with one shirt and a pair of soggy shorts, I agreed with Geoff that we needed to start from our house like true touring bikers, and bail on the idea of getting a train or bus to the coast" Patrick
Bei-Yi-Gong-Lu - Road kill, ghost money and suicidal maniacs
"It was everything we expected and more, and also filled with a few pleasant surprises. Spectacular mist covered mountains greeted us in the morning light and surprisingly long downhill sections had us smiling. Everytime I turned my head to look down into the brilliant river flowing below, my field of vision was filled with trash, dead animals and piles of ghost money. If you squinted your eyes hard enough you could almost think you were in the Formosa of long ago. A most beautiful area of the island." Patrick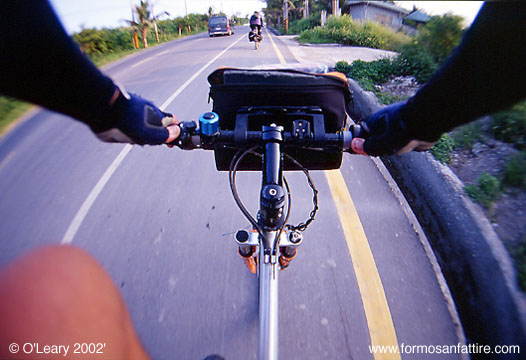 "For some reason I thought this was a steep road. It wasn't, though it is long and it does deserve its reputation for danger. There are a few short sections with shoulders and kamikaze locals preferring the other side of the road when driving." Geoff
Ilan
"It's not the most attractive place on the island, though it does have some great parks. The one we chose seemed pretty cool at first, then after an hour or so of drunken busking and gambling it lost it's appeal completely. The only place to hide was the air conditioned haven of McDonald's. If there were no seats, our combined odor would create something. We stank bad." Geoff
"I've always been fond of Ilan. I love the empty beaches out on the coast and Taiping Shan. Geoff and I rolled into this park at high noon and we're just loving the local scene. People singing and playing cards and having lunch under the trees. It wasn't until an hour later that we realized everyone there were mad gamblers and desperate drunks. I finally had enough of the place when approaching a woman to ask her if I could take her photo, she grabbed my arm violently and told me to either give her $ 1,000 NT or take a hike. We bailed the park soon after." Patrick
Ilan to Suao
"Ugly, flat and dusty, with a quite a few trucks thrown in." Geoff
Suao
"Dull, dull, dull. There is no reason to go to this little port town, unless you have to hole up there overnight due to an approaching typhoon. We came, we saw, we ate the local fried chicken, took a bath in the back of a cram school and got the next train out. We loaded the bikes in the freight section of the train bound for Hualien. We wanted to skip the Suao to Haulien road which is renowned for big gravel trucks and long dark tunnels." Patrick
Day 2 - Hualien to Ji-Qi
"The idea when we started was to ride in the mornings and late afternoons to avoid the sun. Tired beyond belief from the first day of riding, we left Hualien at 10.30am and set about roasting. The first 20 or so km's had us riding through the industrial part of the city, but it ended quickly enough. Once we hit the No. 11 Highway, things changed rapidly. Aside from the odd half built hotel, or gaudy new one, all there was to see was either the ocean on your left or the mountains on your right. The road moved inland for a while which gave us our last climb of the ride, ending with a spectacular view of the coast winding down further south." Geoff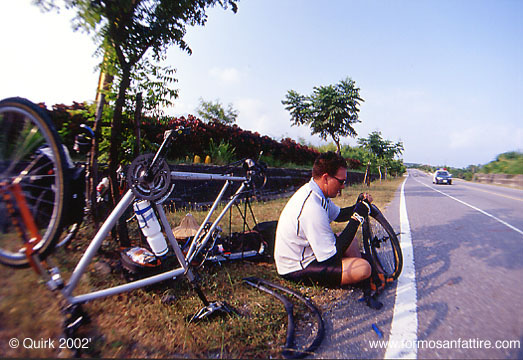 "This is where the magic began for us. I had done this trip a few times before in a car and always enjoyed the solace this road gave me. If you have lived in Taiwan for any amount of time, solace and silence rarely peers its head. This road has a certain loneliness to it, which is completely detached from the frantic pace of Taiwan all of us are accustomed to. The coast is dotted with neat little fishing villages, painted churches and aboriginal from the Ami tribe. A great change of scenery." Patrick
"If you have ever traveled anywhere in Asia, whether it be Nepal, Thailand, Bali, or the Philippines, one very important distinction between these places and Taiwan is that the Taiwanese don't need or want your money. You would be hard pressed to find any local trying to hustle you for your money here. So, instead of hassling dominating social interactions with the locals, curious and friendly conversation replaces getting haggled to death. This is what I really love about traveling in Taiwan. A local would much rather hassle someone of their own kind, leaving us completely alone." Patrick
"Sure enough, as Geoff and I were dying in the mid day heat of the coast, looking completely miserable, a local pulls over, jumps out of his car and gives us biscuits and water. Small talk ensues, a swap of business cards follows and we were off again. An hour later while climbing a hill, a car with a family in it pulls over and gives up chilled apples and water. We were loving it! "Patrick
"We rolled into Ji-Qi and were thrilled. Little A-frame huts on the beach with sweeping views of the coast. We set up our hammocks and went for a swim." Patrick
Ji-Qi by Night
"Feeling hungry and wanting to gorge ourselves, we wandered down the desolate coast at twilight hoping to find some food. After arriving at the only restaurant in town finding the owner passed out on a chair, instant noodles looked to be the only option left. We rolled into a shed/ binglang stand/ house to beg the owner if she could cook us something to eat. Our timing was perfect as the entire family was just sitting down to a great meal in the driveway. She looked us over once and invited us to sit down and have dinner with them. Within minutes I had a cold Taiwan beer in one hand and sashimi in the other. I had five beers and basically ate all of their food on the table. When it was time to leave we asked for the bill. They all flat out refused to accept any money from us and instead just said not to forget meeting them." Patrick
"What followed was a rather rowdy evening. Whenever our beers were anywhere near empty, someone would shout us the next one. It went on like this for a good few hours. The locals on the other hand passed on beer, preferring the harder stuff which came in a plastic bottle and looked very much like the wine Chinese people use to cook with in their kitchens. One handsome 70 year old elder we nicknamed 'Elvis' was caught up arguing over which bottle of rice wine to drink. The plastic or the glass. He seemed to think there was a difference between the two. After downing a few too many, a glassy eyed Elvis stumbled across the road and sped off home, helmetless and without lights on his moped. We followed soon after." Geoff
Day 3 - Ji-Qi to Taidong
"An early morning followed, and the best of the coast was in front of us. We rode off a little hung over and by the next town stumbled upon a breakfast truck thankfully. With a full stomach we were off again, constantly amazed at the empty beaches with surfable waves. This wasn't what we were used to." Geoff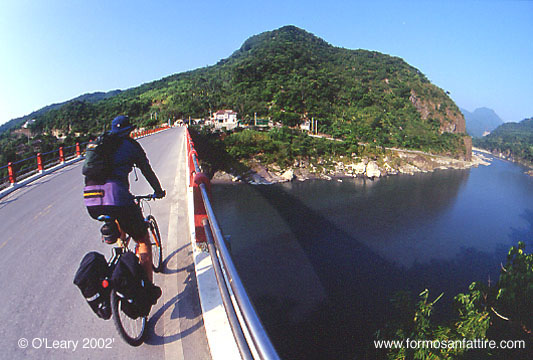 "The coast was chockablock full of perfect empty waves, due to the typhoon spinning off the coast. Every point, inlet, or rivermouth had some perfect wave breaking off in the distance. I was beside myself that I didn't pack my fins for some bodysurfing." Patrick
Tropic of Cancer Monument
"A white, monolithic phallic symbol in a field of binglang and banana trees. We stopped walked around it, shot a few photos for the folks and were off. We had passed the Tropic of Cancer." Patrick
"We had a mid day siesta at a roadside mini temple. With a beautiful Banyan tree providing ample shade, and a perfect wave breaking out in front, I told myself over and over that I need to get down here more frequently." Patrick
"Up until about 50 km's out of Taidong all we passed were small, well kept, clean little villages followed by green fields. After this towns grew and traffic got heavier, but like most of this coast, if there isn't a bike lane, there is more than enough shoulder to ride on" Geoff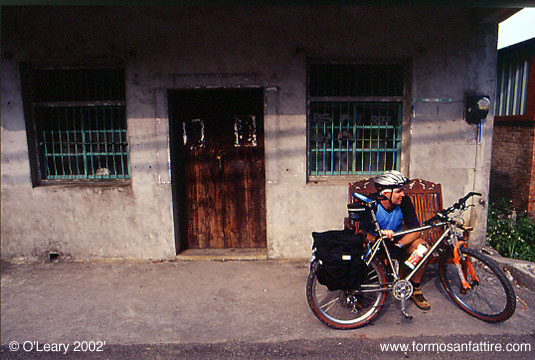 "With the late afternoon spinning out golden light, we arrived in Taitung. Met some great people at Gringos (La Wai de Dian) and swapped stories with some fellow foreigners that are lucky enough to call Taitung home. A great three day trip." Patrick
Conclusion
This trip can easily be turned into an epic by starting in Puli (see Team Tai-rooga story) and ending in Hualien where you can hook up with the #11 highway to Taitung. After that if you're feeling hardy, you can then continue on, hooking up with the South Cross Island Highway (see South Cross Island Highway story) which begins outside of Taitung and ends in Tainan.
If we did this trip again, we would skip the Taipei to Suao section entirely. This section is plagued with industry; heavy trucks and is just plain dull. Beginning the trip in Hualien is the most advisable.
Ride name East Coast
Location East coast of Taiwan
Terrain Flat, paved with small climbs
Length 350 km + from Taipei to Taidong